« Awww: Westboro Church Van Has Tires Slashed
|
Main
|
Uh-Oh: Dems To Push For Some Sort of Amnesty In Lame Duck »
November 15, 2010
Adam Carolla Rants on Earthquakes, Pools, And What's Wrong With California
This is from his Nov. 4th podcast and isn't really a surprise to anyone who's been following California's decline into a bankrupt, busybody state. It turns out that when you make doing business (or just daily living) difficult and expensive enough, the people and businesses that can will vote with their feet. And when putting in a pool costs $100K+ well even Jay Leno says uh, no thanks.
The rant part starts around the 13:30 mark but the whole show is worth listening to. And yes there is cursing.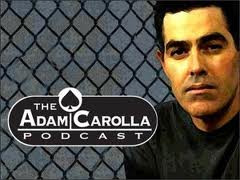 If the player doesn't work, you can download the mp3
here
.

posted by Maetenloch at
07:02 PM
|
Access Comments