« Financial Briefing: Overdrawn
|
Main
|
Wednesday Stupid: Married Couple In Love With Each Other Getting Divorced Because They're "Fed Up With The Hetero-Husband-And-Wife Brigade That Is Afforded So Much Status and Privilege" »
November 10, 2010
Happy Birthday, Marines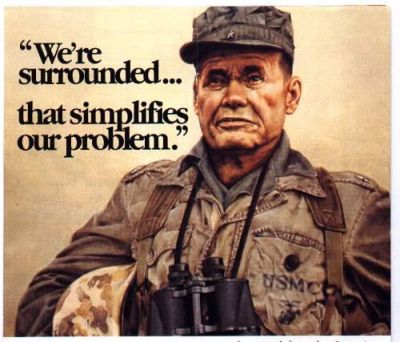 On November 10, 1775 the Continental Congress passed the following resolution:
Resolved, That two Battalions of marines be raised, consisting of one Colonel, two Lieutenant Colonels, two Majors, and other officers as usual in other regiments; and that they consist of an equal number of privates with other battalions; that particular care be taken, that no persons be appointed to office, or enlisted into said Battalions, but such as are good seamen, or so acquainted with maritime affairs as to be able to serve to advantage by sea when required; that they be enlisted and commissioned to serve for and during the present war between Great Britain and the colonies, unless dismissed by order of Congress: that they be distinguished by the names of the first and second battalions of American Marines, and that they be considered as part of the number which the continental Army before Boston is ordered to consist of.

Ordered, That a copy of the above be transmitted to the General.
The Marine Corps celebrates its 235th birthday today. This
article from the NY Daily News
does a nice job explaining why the smallest branch of the armed forces is so greatly respected, but this quote included in the story says it all:
President Ronald Reagan summed up perfectly why America loves the Marine Corps when he said, "Some people spend an entire lifetime wondering if they made a difference in the world. But, the Marines don't have that problem."
Semper fidelis.
The picture above is of Lt. General Lewis B "Chesty" Puller, the most decorated Marine in history.

posted by Slublog at
10:38 AM
|
Access Comments