« Financial Briefing: A funny thing happened on the way to the bankruptcy hearing
|
Main
|
Beinhart's Revisionism »
November 09, 2010
Week 9 Moron Pick Results
Well the Bengals almost made a game of it last night, didn't they?
Here's this week's round up, via Ben and CDR M. The only way I moved up was Gabriel forgot to put his picks in.
Quarreyman: 74
Bruin22: 73
Reggie Bush's Birth Cert: 72
joltin' j: 72
Portnoy: 71
ConservativeintheCity: 71
Bush League: 70
Khatmandu Yaks: 70
Notables:
Ben:63
DrewM: 62
CDR M: 60
Russ from Winterset: 59
DiT: 57
Gabe Malor: 49

57 is pretty bad, but it could be worse I suppose.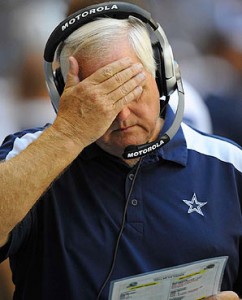 posted by Dave In Texas at
10:09 AM
|
Access Comments