« O'Donnell, Who Lost By 17 Points, Still Sending Out Press Releases Attacking People
|
Main
|
Breaking: Olbermann Suspended Indefinitely From MSNBC »
November 05, 2010
Nov. 5, 2009
One year ago today.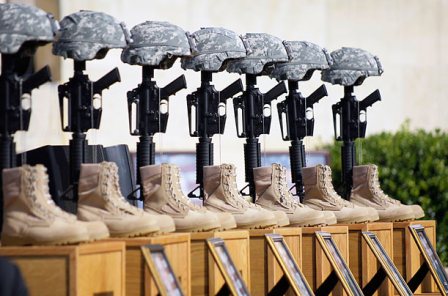 I tried to find some words, and today I'm just no good at it (not that I'm ever really good, call it worse than usual). The words wouldn't come.
The Ft. Hood - central Texas community is a close one. I'm part of it. We care about one another. This day, one year ago, the news spread quickly. It was a confusing and terrible day.
Slublog sent me this, about the victims. And I also read this story, about soldiers in the 467th Combat Stress Control Detachment who went through this, then went to Afghanistan to carry out their duty.
All we can do is remember the fallen, comfort those who lost loved ones, and secure the justice that this horrible crime demands.
Lt. Col. Juanita Warman, 55, Havre de Grace, Md.
Maj. Libardo Caraveo, 52, Woodbridge, Va.
Cpt. John P. Gaffaney, 54, San Diego, Calif.
Cpt. Russell Seager, 41, Racine, Wis.
Staff Sgt. Justin Decrow, 32, Plymouth, Ind.
Sgt. Amy Krueger, 29, Kiel, Wis.
Spc. Jason Hunt, 22, Tillman, Okla.
Spc. Frederick Greene, 29, Mountain City, Tenn.
PFC Aaron Nemelka, 19, West Jordan, Utah
PFC Michael Pearson, 22, Bolingbrook, Ill.
PFC Kham Xiong, 23, St. Paul, Minn.
Michael G. Cahill, Cameron, Texas [civilian]
Pvt. Francheska Velez, 21, Chicago, Ill.
Velez, unborn child

posted by Dave In Texas at
01:10 PM
|
Access Comments