« Obama to Businesses: "I really love you guys. Really. Now hire somebody!! Please"
|
Main
|
Is Nancy Pelosi Really Thinking Of Hanging On To Leadership Position? »
November 04, 2010
The Third Trend in Initial Unemployment Filings: The Healing Begins
The Department of Labor released the initial unemployment claims data this morning: claims rose to 457,000, from last week's adjusted 437,000. Here's where that sits on the chart: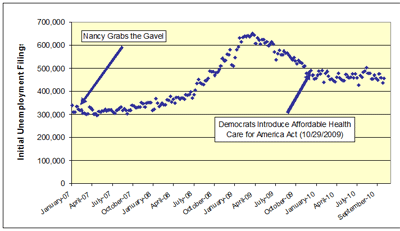 I call the fall from the peak in March '09 the "First Trend." It was a dramatic drop in initial claims, paralleled by a similarly dramatic slowing in job loss. The "Second Trend" started in November 2009, shortly after the Dems announced their health care reform bill. The improvement immediately stopped, and employment stagnated for about 9 months.
But the overall trend since about mid-August has been slightly downward, i.e., improving - I'm calling this the "Third Trend" because I totally rock when it comes to naming things. It's a barely perceptible improvement, but enough to suggest that unless another economic hit comes our way, the worst of unemployment is behind us.The question is: "Why? What changed in mid-August?"
Well, I have a theory, and it goes a little something like this: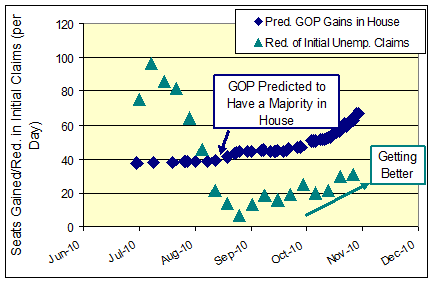 What you're looking at is the improvement in initial unemployment claims vs. the prediction of GOP seat gains in the House. As you see, the improvement in initial unemployment claims was approaching zero, but in mid-August things started improving again. The remarkable thing is that this was just after pundits started predicting that the GOP would take control of the House.
So as long as it appeared that the Dems would retain control of the House, the healing of the job situation slowed to almost zero. As soon as the GOP's fortunes waxed, the healing started climbing back up. Businesses realized that the cavalry had finally arrived.
What does this all mean to you? Well, had the First Trend continued, we would have seen the unemployment rate start dropping last summer. Thanks, Nancy!! If the GOP hadn't taken back the House, we'd probably have seen the Second Trend continue indefinitely, as predicted by Geithner. But if the Third Trend continues, I think we'll start seeing recovery much sooner.
If only we'd taken the Senate, too.


posted by Geoff at
04:46 PM
|
Access Comments