ę Illinois: Clean Sweep?
|
Main
|
Video Metaphor of the Day Ľ
November 01, 2010
Some Liberals Still Head Over Heels In Love With Obama
Well Curtis Sittenfeld for one isnít afraid to let his her Obama-love gush forth in Slate but even heís she's wondering Am I the last person in America who still adores President Obama?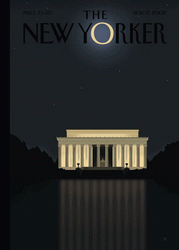 And Sittenfeld really, really likes Obama:

But when I see Obama on television, I'm unfailingly struck by his intelligence and charisma, by his easygoing humor, by the magnificence of his megawatt smile.
I like his mind-bendingly multicultural extended family. I like that in a campaign interview in Glamour magazine, he could fluently and unabashedly talk about Pap smears. I thought that the beer summit of 2009 was delightful. I was even excited when Obama won the Nobel Peace Prize, not realizing until pundits explained otherwise that I was supposed to be aghast at its prematurity.
At this point the only way I think she could be happier is if Obama started sparkling in daylight and carried her away into the forest.
And thatís not all:

At this point, I love Obama so much that I recently thought if it were 1961, I'd probably display a bust of him in my living room. Then I realized I'm already displaying the 2010 equivalent: On my living room wall, I have a framed version of that famous November 2008 New Yorker cover of the O moon over the Lincoln Memorial.
Okay now Iím starting to wonder if maybe the Secret Service doesnít already have a file on this Curtis
guy
lady. Thereís always such a thin line between obsessive love and hate.
Read the whole thing for some sweet, sweet upcoming schadenfreude.
Oh I shall so relish Sittenfeldís tears on November 3rd. I think they will go well with some champagne and fava beans.

posted by Maetenloch at
05:51 PM
|
Access Comments