« World Series Thread
|
Main
|
Kid's Got Some Nerd Chops »
October 27, 2010
Overnight Open Thread
Welcome to tonight's semi-half-assed hump day ONT.
So Where Do You Fall Politically?
Well OkCupid has a political test that's supposed to map where you fall on the plane of political thought. And yeah I know these kind of tests are simplistic, biased, and tend to collapse a lot of distinctions and well bla bla bla BLA. But I still find them entertaining anyway.
So here's my result. Now I wouldn't call myself a 'social liberal' but I am more of a libertarian than a SocialCon. It would have been interesting if they had added a 3rd axis measuring how much government action is desired.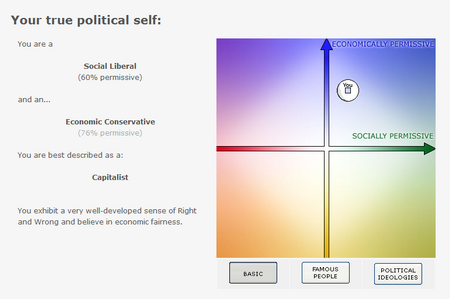 You can take the test for yourself here. And if you enjoy these, there are more here, here, and here.
And of course you can do a similar thing with countries at large and see where they fall. It turns out that the US (and the Anglosphere) really are outliers in the world. And probably in human history.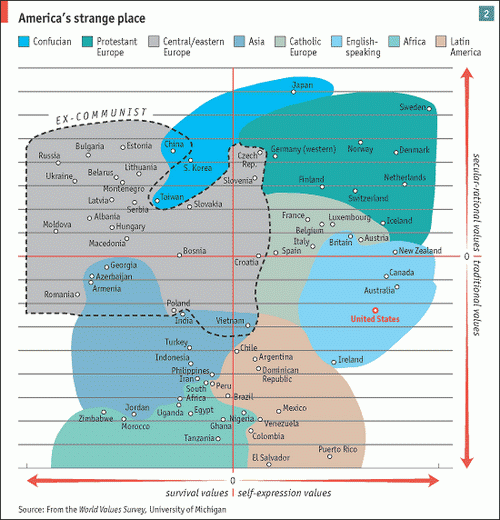 Legal Stuff: Do US Courts Recognize Ghosts and Hauntings?
Answer: Kinda
Did The KKK Get 'Separation of Church' and State Read Into the Constitution?
Answer: Kinda sorta
Can You Get Served Court Papers on Facebook?
Answer: Yes, in Canada.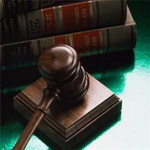 Did You Know It's Been 10 Years Since Fellowship of the Ring Came Out?
And now they're having a reunion.

How the Allies Used Math to Figure out Nazi Germany's Tank Production
I remember reading about this as a case study in an undergraduate course on statistics. The Germans were able to successfully fool everybody that their tank production was much, much higher than it actually was. Well everyone except for mathematics. Thanks to CDR M.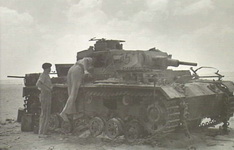 Rock Stars of the 70's and Their Parents
Some nice photos from the Life magazine archives. Thanks to Mike H.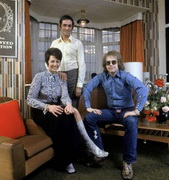 Time Lapse Video of the Hoover Dam Bypass Bridge
Thanks to Dave C.

Beyond The Pumpple: The Cherpumple Cake
Well basically it's like several pummple cakes stacked together with more frosting:

Briefly, you bake a frozen apple pie inside a layer of spice cake from a box; a pumpkin pie in a layer of golden cake; and a cherry pie in a layer of white cake. Slather with as much Duncan Hines cream cheese frosting as you like, and you have a three-layer cake that will be the talk of the party.
Thanks to Heather Radish.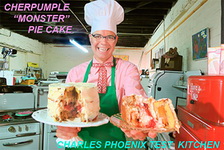 The 12 Most Popular Halloween Costumes This Year Here are the top 5. Meteors sooner please.

1. Lady Gaga. (meat dress sold separately)
2. Snooki.
3. The Situation. With or without the abs.
4. Pauly D. Are you noticing a trend here?
5. Any character from Tim Burton's "Alice in Wonderland."
Tonight's post brought to you by the end of the line:

Notice: Posted by permission of AceCorp LLC. Please e-mail overnight open thread tips to maetenloch at gmail. Otherwise send tips to Ace.

posted by Maetenloch at
09:45 PM
|
Access Comments