« Saturday Morning Open Thread
|
Main
|
Unemployment and Debt Are Up, But There's Good News Too: Obama Found Time For His 52nd Day of Golfing »
October 09, 2010
College Football Thread
I'm tryin. Lord it ain't easy. But I'm tryin.
Not a lot of ranked head to head games today, Florida and LSU, Michigan and Michigan St, Florida St and Miami (FL), and Alabama against SC (here's a schedule). A certain co-blogger's Cowboys slapped around some little Louisiana school like a Bourbon Street harlot last night after a good game against A&M last week (not Cornell A&M Keith).
It's a gorgeous sunny day in Texas today. Git out there and enjoy yaself. Watch a game or two. And be kind to strangers.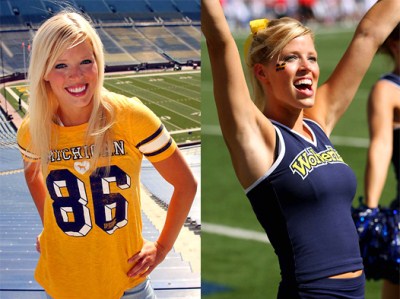 She's a cute little Spartan, ain't she?*
* not a mistake so don't gimme no grief


posted by Dave In Texas at
11:11 AM
|
Access Comments