« Money Talks
|
Main
|
Submit to Me, Bitch: Dan Webster Vaults Ahead of Alan Grayson »
September 29, 2010
Hunting the Palins
The pressure never lets up on the Palin family. Today they're after Bristol:
A state investigator is apparently checking whether it was legal for "Dancing with the Stars" contestant Bristol Palin to be in a downtown Anchorage establishment while dancing partner Mark Ballas performed.

The question is Palin's age, 19. She could only legally be in Rumrunners Old Towne Bar and Grill last Friday if accompanied by a parent, spouse or legal guardian over 21.
Uh-oh. But wait, there is one more exception:
State law also would allow her to be there if it's been designated as a bona fide restaurant, and she was there only to eat.
A "bona fide restaurant" eh? Well, perhaps the AP could have done what I did: look up this gin joint online and see if it really
is
a food establishment. In the 30 seconds it takes to find and visit
their website
, you quickly find their
dinner menu
, which sounds simply outstanding.
I took the liberty of scanning the Steak portion of the menu (click to enjoy at legible size):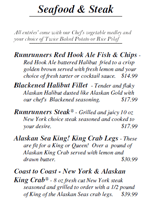 Da-rool,
da-rool
(4:42). Between that and the Klondike Bacon Cheese Burger, I'm not only convinced that Rum Runners is a "bona fide restaurant," I'm thinking about a dedicated expedition to Anchorage to dive face first into their offerings.
The obvious virtues of the menu aside, I believe that it's clear that Bristol had the right to be in the establishment - the only question is whether she was slugging down shooters and pints while she was there. I'm doubting it, and in the absence of some other indication of a crime, going back to try to find a crime smacks of yet another anti-Palin witch hunt.
And the AP's apparent reluctance to actually spend the minute required to investigate the establishment tells me that they're fine with that.


posted by Geoff at
10:29 AM
|
Access Comments