« The Official Republican Road Map: No
|
Main
|
Jimmy Carter: You Know, As Far As Ex-Presidents Go, I'm Pretty Damn Awesome »
September 20, 2010
Overnight Open Thread - UK Edition
Welcome to the Monday all. I didn't quite plan on having a UK-oriented ONT but it sorta happened by accident so I just went with it.
The 1997 Royal Navy Field Gun Competition
Well if you loved the Canadian Army jeep tear-down and re-build last week, you'll love this Royal Navy Field Gun Competition from 1997. Here competing teams have to break down a field gun, transport it in pieces over several obstacles, reassemble it and then fire 3 blanks. Note that the wheels alone weigh 125 lbs and the barrel is over 800 lbs.
The competition began in 1907 and was held every non-war year up until 1999 when it was retired. It's based on actual events during the Boer War when sailors took guns from the HMS Terrible and Powerful and manhandled them over difficult terrain to relieve the siege of the British garrison in Ladysmith, South Africa.
Other similar field gun competitions continue - this one is from 2008.

(thanks to Doug W)
The Ultimate Nanny State: UK Government Wants to Collect All Paychecks, Send Remainder To People's Bank Accounts
But don't worry - the UK tax collection agency, the HMRC, give you your fair allowance:

The UK's tax collection agency is putting forth a proposal that all employers send employee paychecks to the government, after which the government would deduct what it deems as the appropriate tax and pay the employees by bank transfer.
Because god forbid that the state might not get its full share of your money. I guess if you're going to have socialism, the least the government can do is do it all up front and honestly.
Worst X Factor Contestants Ever
X Factor is a Simon Cowell production out of the UK and here dimwit contestants Abbey Johnstone and Lisa Parker manage to insult everybody and have a meltdown before they even started singing. They're only 18 and 17 but given their appearance and classless demeanor I'm guessing that they've already peaked in their lifetime attractiveness and likability.

Sir Terry Pratchett Created His Own Sword With Meteorites
And iron ore he collected and smelted himself:

With help from his friend Jake Keen — an expert on ancient metal-making techniques — the author dug up 81kg of ore and smelted it in the grounds of his house, using a makeshift kiln built from clay and hay and fuelled with damp sheep manure.
Pratchett, who has Alzheimer's disease, also said he had thrown in "several pieces of meteorites — thunderbolt iron, you see — highly magical, you've got to chuck that stuff in whether you believe in it or not".
But sadly he had to keep it hidden afterward for fear he might run afoul of Britain's stiff anti-knife laws.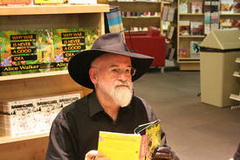 There's Gold in Them Thar Computers
And here's how you can extract it at home. But this may not be for you if you don't have a lot of free time and a fondness for strong chemicals. And a lot of motherboards.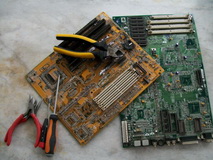 Remembering The Last of the Glorious Few
In 1940 all that stood between England and a Nazi invasion were a handful of RAF pilots who flew near continuously during the Battle of Britain from July to October 1940. Today most of "The Few" are in their 90's and only 79 are still alive. Here the Daily Mail has a tribute to each one of them.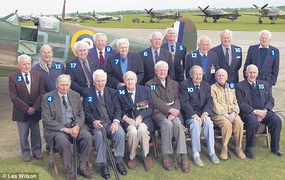 And those who were able marched in
a service yesterday to mark the 70th anniversary of the Battle of Britain
attended by the Royal Family, Prime Minister Cameron, and Margaret Thostaer among others.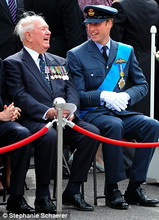 Why Finding Love Means Losing Friends
According to researchers each new romantic relationship costs you two friends, at least for a while:

Most of us simply don't have enough time for intimate friendships with more than four or five people, their research shows.
And a new love interest leads to two friends being pushed out of the inner circle.

Professor Robin Dunbar, one of Britain's leading experts in evolutionary biology, explained: 'If you go into a romantic relationship it actually costs you two friends in that inner core of relationships.
And this is true for both men and women.
The Daily Cuteness
Here some Maine Coon baby kittehs discover the world.

Scottish Rugby Fan Proves He's a True Scotsman Live on BBC TV
Frank and beans make an appearance here so this video is NSFW.

The group thingy. You can figure out the rest.
Tonight's post brought to you by the Women's Home Defence Corp, 1940: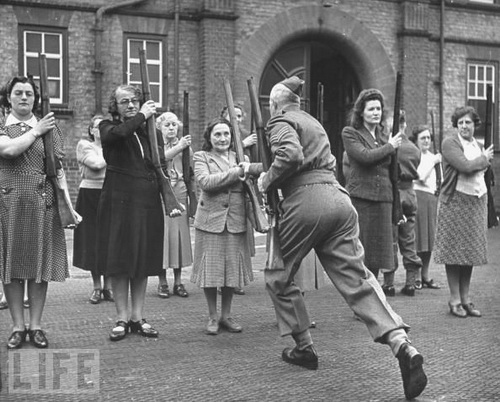 Notice: Posted by permission of AceCorp LLC. Please e-mail overnight open thread tips to maetenloch at gmail. Otherwise send tips to Ace.

posted by Maetenloch at
09:50 PM
|
Access Comments