« Top Headline Comments 9-9-10
|
Main
|
Hellllloooooo West Virgina »
September 09, 2010
Ground Zero Victory Mosque Imam: Gee, I Didn't Know People Would Be So Upset
Feisal Abdul Rauf is back from his abbreviated trip around the Muslim world on behalf of the Department of State and he's shocked people are so upset about his victory mosque.
Rauf said that if he knew how controversial the project would be, he "never would have done this - not have done something that would create more divisiveness."

However, he said he is convinced he shouldn't move the center now because "our national security now hinges on how we negotiate this, how we speak about it and what we do."

By that, he said, he means that if the controversy forces a move, "it means the radicals … will shape the discourse on both sides."
Here's what I find so interesting about that...if Islamaphobia is so rampant in America, wouldn't he have just assumed that a nation of supposed bigots would react negatively?
Now, he and the tiny fringe minority that are on board with this project will say that Islmaphobia is just now on the upswing. Um, ok. 9 years after 9/11/01 and Americans are finally letting their inner anti-Islam rage fly? That doesn't seem like a nation seething with anti-Islamic hatred just waited for a chance to explode.
So why now? Why such a delayed reaction?
I'd offer the thought that Americans are not Islamaphobic but amazingly tolerant. What they are not however is stupid. We'll put up with a lot, cut folks a lot of slack but at some point (like building a victory mosque as close as possible to Ground Zero) we finally call bullshit.
Personally, I think the reason people are finally saying enough! is that almost a decade of being told Islam=peace simply doesn't match the reality of what we see from a sizable portion of the Islamic world.
Rauf also explained why he must continue forward with the project. Surprisingly, it's has to do with the ever delicate sensibilities of...Muslims.
Rauf reiterated that the issue about what to do with the center going forward is important for national security.

"If we don't do this right, anger will explode in the Muslim world," Rauf said. "... If we don't handle this crisis correctly, it could become something very dangerous indeed."

He said moving the project to another location would strengthen Islamist radicals' ability to recruit followers and will increase violence against Americans.
What other religion in the world is constantly telling everyone they as so damn peaceful so long as we get what we want but cross us and it's on?
If Rauf is so interested in bridge building, instead of telling Americans to suck it up and appease the 'radicals' in Islam, why doesn't he start telling the 'radicals' to get with the whole Islam=peace program?
Nah, can't do that. Not straight up anyway.
When asked if the State Department was correct in saying Hamas is a terrorist organization, Rauf said: "I condemn everyone and anyone who commits acts of terrorism, and Hamas has committed acts of terrorism."
Why not a simple, "yes"? Why does Islamic terrorism always have to put in some broader context? Just say, "yes, Hamas is a terrorist organization", he'd build a few more of those bridges he's always on about if he did.
Of course related to all of this is the Koran burning stunt this weekend in Florida.
Seems the idiots from the Dove World Peace Center aren't technically affiliated with the Fred Phelps freak show but they party with them when they come to town.
Michelle Malkin notes that there's a name for the day when Muslim protest the US in vile ways...Everyday.
Naturally, President Obama has now weighed in.
"You could have serious violence in places like Pakistan or Afghanistan. This could increase the recruitment of individuals who would be willing to blow themselves up in American cities or European cities," he said.

"This is a recruitment bonanza for al-Qaeda."

"If he's listening, I hope he understands that what he's proposing to do is completely contrary to our values as Americans. That this country has been built on the notion of freedom and religious tolerance."

"And as a very practical matter, I just want him to understand that this stunt that he is talking about pulling could greatly endanger our young men and women who are in uniform."
Interesting that Obama is willing to discuss the wisdom (or lack thereof) in burning Korans but won't say what he thinks about the wisdom of building the GZ mosque.
I really wish someone would ask Obama and Rauf a very simple follow up question..."Why? Why do so many, not all, but an awful lot of Muslims threaten violence in cases like this and the Mohamed cartoons?"
I'd love to hear the answer to that. Here's a chance for the President to follow up on his statement in his speech in Cairo where he said, "I consider it part of my responsibility as President of the United States to fight against negative stereotypes of Islam wherever they appear."
As always, Obama's defense of American values is somewhat selective.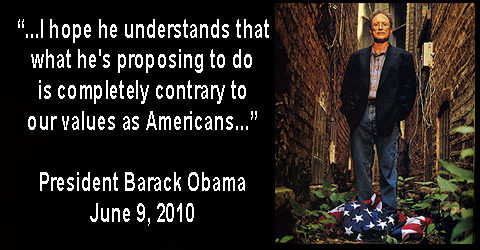 Thanks to Carin via LauraW for that.
Added: Main financial backer of GZ Mosque says he just wants to make some money. This guy? This guy I like.
Hisham Elzanaty, an Egyptian-born businessman who says he provided a majority of the financing to gain control over the two buildings where the center would be built, told The Associated Press this week that while he supports the concept, he needs to turn a profit.

He said one of the buildings is worth millions if it is redeveloped, and he intends to seize the opportunity. He said he would like to see the other building turned into a mosque, but if his community doesn't come forward with enough cash for him to break even, he will turn it over to someone else.

"I'm a businessman. This was a mere business transaction for me," said Elzanaty, a U.S. citizen who has lived on Long Island for decades, owns medical clinics in New York City and invests in real estate on the side.

Representatives of some of the project's backers said they have just started trying to raise the estimated $100 million needed to build the center and the millions more required to run it.

Elzanaty said his real estate partnership, which paid $4.8 million for half the site last year, has already received offers three times that much to sell that parcel.

"Develop it, raze it, sell it," he said. "If someone wants to give me 18 or 20 million dollars today, it's all theirs."
This is what we need. More chasing of filthy lucre and less touchy-feely bridge building.
via neo-con command central, Keep America Safe

posted by DrewM. at
11:20 AM
|
Access Comments