« Lt. General McInernery: A Determination On Obama's Birth Certificate Is Absolutely Essential For Determining AWOL Army Doc's Guilt
|
Main
|
California Senate Debate: Fiorina vs. Boxer »
September 01, 2010
Overnight Open Thread
Despite the best efforts of e. coli I'm back with another semi-half-assed ONT.
Well not just any old urine - the urine from elderly type II diabetics with excess sugar. There's gold in them thar Depends!
James Gilpin uses the sugar rich urine of elderly diabetics to make his high-end single malt whisky. From the article: "The source material is acquired from elderly volunteers, including Gilpin's own grandmother, Patricia. The urine is purified in the same way as mains water is purified, with the sugar molecules removed and added to the mash stock to accelerate the whisky's fermentation process. Traditionally, that sugar would be made from the starches in the mash."
But as one commenter pointed out if they're adding sugar to it, is it really single malt any more?
Now I'm looking forward to Plasma vodka and Orphan Blood rum.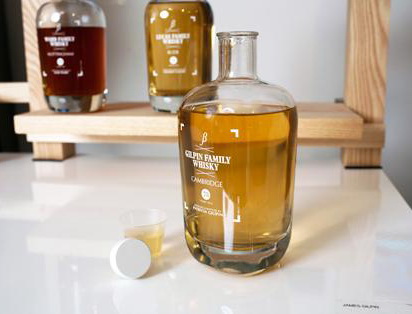 Meanwhile in other whisky news....
Scottish Scientists Develop Whisky Biofuel
Glenfiddish 64 Year-old Whisky now available. For just $30K a bottle.
Taiwanese Whisky beats Scottish in blind taste test.
And how did Margaret Thatcher lose 20lbs in 2 weeks before her first official photo set at No.10 Downing St? She used her whisky, spinach, and steak and eggs diet.
The Pretentious, Hypocritical Demands of Sheryl Crow
Her standard contract rider recently got published on The Smoking Gun and she's a pain in the butt who's still obsessed with toilet paper:

For instance, she asks venue owners to "utilize…non-petroleum cups" and other "alternatives to Styrofoam" for backstage drinks. She requests they reduce their reliance on fossil fuels by using "renewable sources and/or to [buying] sustainable energy credits where possible." She actually asked them to check with their local utility companies to see if there's a "green power" option they can switch to during her concert. She asks for "eco-friendly cleaning and bathroom products [and] post-consumer recycled toilet paper and paper [towels]."
And all her food must be organic so after processing it, she can wipe it off with a single sheet of recycled, organic toilet paper. Meanwhile she flies in on a private, non-organic plane.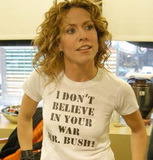 Defying Hitler: A Witness to the Nazi Takeover
Neo-neocon posted about this book review of Sebastian Haffner's memoir. He recounts how it was that Nazi's took over a civilized country of otherwise sane people and how deeply corrosive the hyper-inflation of the 20's was to German society and social order. In particular it gave inordinate power and status to the youngest generation:

The old and unworldy had the worst of it. Many were driven to begging, many to suicide. The young and quick-witted did well. Overnight they became free, rich, and independent. It was a situation in which mental inertia and reliance on past experience was punished by starvation and death, but rapid appraisal of new situations and speed of reaction was rewarded with sudden, vast riches. The twenty-one-year-old bank director appeared on the scene, and also the sixth-former who earned his living from the stock-market tips of his slighty older friends. He wore Oscar Wilde ties, organized champagne parties, and supported his embarrassed father.
It took nearly a decade for the inflation to be tamed and the old social order to begin to reassert itself. But many of these bright young things weren't interested in going back to the old system.
Yet More Videos From Taiwan's Next Media Animation
This time of Paris Hilton's recent bust for coke.

Commodore Computer is Back
And planning on releasing an updated Commodore 64 in the US. Of course things have changed since the 80's and the new C64 will run Windows on a 2.66 GHz Intel Core I7 processor, NVIDIA GeForce GT 330M with 512 MB, 2 TB hard drive, 4GB DDR3 SDRAM and BLU RAY drive. No word on pricing or availability of cassette storage.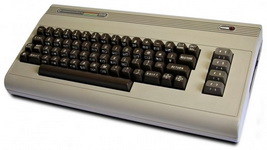 The Kate Spade Wedge: The Female Politician's Secret Weapon
Apparently they're super popular among female politicos because they give the appearance of wearing high heels but are much more comfortable, and sexy but not too sexy.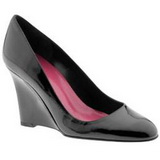 When It's Okay to Drop the F-Bomb
Doh! Check out the whole gallery.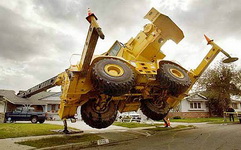 Octomom Broke and Losing Her House
Her reality show never panned out and her house was about to go into foreclosure so she's handed it over to her lawyer. Hmm maybe a father would have been useful after all.
I believe this is the 3rd or 4th house she and her parents have lost. Some people just aren't cut out for the whole mortgage thing. Yet not quite good enough at grifting to make a full-time living at it.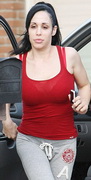 Tonight's post brought to you by bacon-cakes:

Notice: Posted by permission of AceCorp LLC. Please e-mail overnight open thread tips to maetenloch at gmail. Otherwise send tips to Ace.

posted by Maetenloch at
09:05 PM
|
Access Comments