« Overnight Open Thread
|
Main
|
Obama's Speech: Now Is The Time We Must Honor Our Returning Troops By Transforming The Country Into Something They Wouldn't Recognize And Don't Want »
August 31, 2010
MURKOWSKI CONCEDES RACE "FOR THE GOOD OF THE STATE OF ALASKA"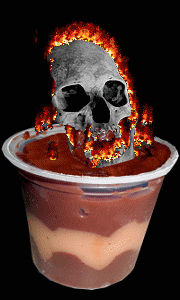 Ah, Old Friend, layered chocolate and vanilla Jello Pudding...
How I have missed your cold and squooshy embrace.
[PuddingSkull via The MegaIndependent]

Murkowski: "Based on where we are right now, I don't see a scenario where the primary will turn out in my favor."
Also: "For the good of the state of Alaska, I am conceding the race for senator."
...

Oh Dear: Joe Miller's camp just tweeted mention of us and pudding, before a sane hand deleted it.
But DrewM. screencapped it.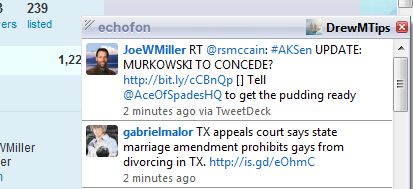 By the way, that's Joe Miller not saying that himself, but retweeting (reposting) Stace McCain saying it. Still -- score.