« One More Rah-Rah: When The Bear Is Poked, The Bear Must Attack, Or Else It Will Become a Pet
|
Main
|
CNN Trots Out Brand Spanking New Argument In Favor Of Mosque; So Delighted With Its Novelty, They Run With It All Day »
August 19, 2010
Is Tonight The Night For Israel?
According to John Bolton and other experts the Iranians are expected to start putting in the fuel rods into the Bushehr reactor over the weekend at the latest.
Once they're in place any attack on the nuclear plant will result in radioactive fallout over populated areas and no doubt severe responses from even relatively friendly countries. The attack in 1981 on Iraq's Osirak reactor took place before the fuel rods were loaded for this very same reason.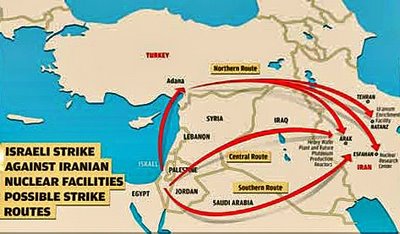 Of course the Bushehr reactor is actually the lesser worry since it wouldn't be able to produce enough plutonium for a weapon for several years. It's the labs in the North concentrating highly enriched uranium that are likely to produce the first bomb.
It's currently 5am on Friday in Iran. So this is about the last possible moment for Israel to take out Iran's nuclear program cleanly.

posted by Maetenloch at
08:38 PM
|
Access Comments