« Five Job Killing Stimulus Projects
|
Main
|
More From That Time Poll: We've Decided It's Objectively "Hate Speech" To Oppose The Victory Mosque »
August 19, 2010
Lots Of People (Not Just Republicans) Think Obama Is A Muslim
To me, this is kind of interesting and also kind of silly.
First, the numbers.
In March 2009, the percentage was 11 percent. Today, it's 18 percent.

The percentage of those asserting that the president is a Christian -- which he is -- has gone down in that time, from 48% in March 2009 to 34% today.

...The poll indicates that groups who have shown the most willingness to believe the wrong assertion that the president is a Muslim include conservative Republicans -- 34% of whom believe the president is Muslim. Eighteen percent of independents say the president is a Muslim, up from 10% in March 2009.

But even among the president's allies, the numbers are shifting. In March 2009, 55% of Democrats said the president is a Christian, which he is. That number is now 46%. African-Americans, who voted for President Obama overwhelmingly, have also shown a similar shift. In March 2009, 36% of African-Americans said they didn't know the president's religion; that number is now 46%. Self-described liberal Democrats who don't know what religion the president is shifted from 23% to 31%.
These numbers are tied to a poll that show Americans generally aren't too fond of Muslims overall. There's likely a correlation between the drop in Obama's approval and his being linked to an unpopular group.
It's obviously dangerous to think you can know what's in another person's heart but I don't think Obama is any more of a Muslim than he is a Christian.
You can't have spent all that time in Jeremiah Wright's church and really expect mainstream American Christians to say you share their values. Despite all his talk about wanting to find a local church to attend in DC, he never did. The fact is, Obama has made no effort to be seen publicly practicing his faith. Again, the measure of one's faith isn't their public professions of it (lot's of bad people sit in the front row of pews every Sunday around the world) but when you're President, what you say and do matter in the forming of the public's opinion of who they think you are.
Again, with the caveat it's impossible to know what is in the heart of another, I think Obama's religion is the state. He's a leftist. Religion is a tool to use in gaining and holding power but in the end it's not the guiding light of his life.
I think the reason he's seen as a Muslim is because of his family history and it's the kind of religion a leftist would be more in tune with in America. It's the minority religion, fighting to gain a foothold within the existing political and cultural power structure of America. Islam's "otherness" from the traditional American religious experience is akin to the outsider status most leftist have in the American political tradition. Liberals like to bemoan the idea that Obama is viewed as "the other" by many Americans but it ignores the fact that many on the left feel the way. They don't see themselves as part of America's traditions, they hate them. Leftists don't celebrate America, they are too busy"remaking America" to coin a phrase. I think that it is this shared sense of being the 'outsider' which draws Obama more to Islam than to the traditional and dominant Christian outlook.
Add all that to his constant talk about the need to reach out to the Muslim world and his distortions about the importance of Islam in America to his lack of mainstream Christian background and, well, this is what you get.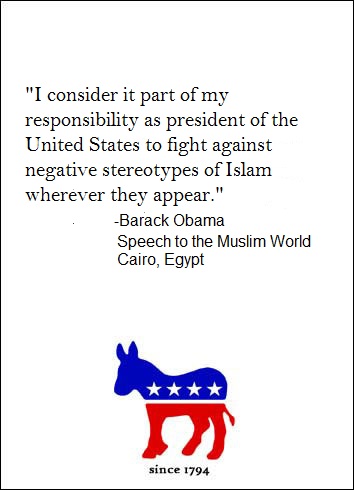 A few more thoughts....
Just to be clear on why I think this is a silly story (from something I wrote in the comments).
I think it's silly because he (Obama) could come out tomorrow and say he's making the Haj to Mecca and I'd still think he is a dangerous President who has done great harm to the nation. It simply wouldn't matter much.

On the other hand, Jimmy Carter appears to be a real deal Christian. I still think he was a dangerous President who did great harm.

Actions matter to me in a President, not his religion.
There is something very disturbing in the survey that should be rejected and rejected hard....
Twenty-eight percent of voters do not believe Muslims should be eligible to sit on the U.S. Supreme Court. Nearly one-third of the country thinks adherents of Islam should be barred from running for President
Look, people can think this but it's fundamentally un-American. Religious tests for public office are not only wrong, they are specifically prohibited by the Constitution.
We should not let our passions get the better of us.

posted by DrewM. at
01:08 PM
|
Access Comments