« Two Democratic Congressional Candidates Go On Hunger Strikes
|
Main
|
Dick Morris: The Democrats' Doomsday Dilemma »
August 18, 2010
Barney Frank, When Democrats Were On The Rise: There Is No Housing Bubble; We Must Expand Freddie/Fannie
Barney Frank, When Democrats Are On the Slide: We Must Abolish Freddie/Fannie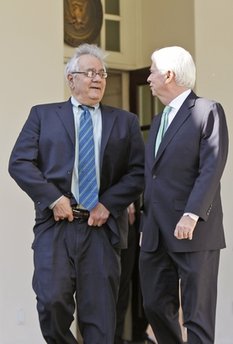 Dodd: "How'd it go?"
Frank: "Good... the taxpayer took it all without
so much as a whimper. Near the end he even
seemed to be enjoying it."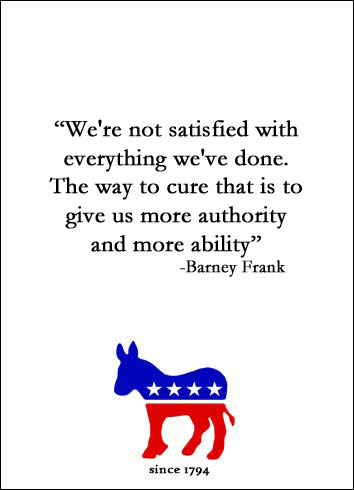 Video documentary of Frank's building of the bomb that blew up the entire word economy below, and then claiming he tried to stop Bush from hitting the button, below.
"You're not going to see a collapse like you see when you see a bubble... so we on the committee are going to continue to push for home ownership."
And then, this past May, as we know now his policies ended with a huge bubble and financial ruin, he attempts to claim he's always been worried about Fannie/Freddie:
"I was very much in disagreement with this push into homeownership." Blames Bush for going too far in this regard.
Despite the fact Bush tried to reign him in:
He and his Democrat buddies blocked all attempts at restraint and reform as... racist. Skip to the end to see Barney Frank saying Freddie/Fannie's "safety and soundness" "does not seem to be an issue."
Also Maxine Waters pops in earlier to say Fannie and Freddie were working precisely as intended after the 1992 expansion, because, look, more poor homeowners than ever!
And of course Nancy Pelosi blames Republicans for their "anything-goes" regulation-light policy, despite the fact that when Republicans demanded a new, tougher regulatory structure, Nancy Pelosi herself freaked.
And now? Now that his party is actually being held accountable for its ruinous policies?
Fannie Mae and Freddie Mac should be abolished rather than reformed as part of the Obama administration's planned overhaul of the government's role in housing finance, Rep. Barney Frank, chairman of the House Financial Services committee, said on Tuesday.

"They should be abolished," Frank said in an interview on Fox Business, when asked whether the mortgage giants should be elements in housing market reform. "They only question is what do you put in their place," Frank said.

...

"There is no more hybrid private-public," the Massachusetts Democrat suggested. "If we want to subsidize housing then we could do it upfront and let the budget be clear about that."

...

The firms' pursuit of growth and profits helped precipitate the financial crisis of 2007-2009, but their vast resources also helped minimize its impact.
What? What was that last part?
Together, Fannie and Freddie and the Federal Housing Administration now back 90 percent of new U.S. home mortgages.

Fannie and Freddie have received $150 billion in taxpayer bailout money.

In the Fox Business interview, Frank also was critical of public policy that promoted homeownership at any cost. He also said the federal government should not be a "backstop" in guaranteeing mortgages.

"There were people in this society who for economic and, frankly, social reasons can't and shouldn't be homeowners," Frank said. "I think we should, particularly, stop this assumption that you put everybody into homeownership."

"Public policy has been too much to try to push people into homeownership."
Public policy has been? Passive voice much? Whose policy was this?
Who said, in committee, in response to Bush officials' concerns about Freddie and Fannie's solvency, "I'm willing to roll the dice a little with subsidized housing..."?
You did, Frank.

posted by Ace at
02:45 PM
|
Access Comments