« Popcorn? Maxine Waters Defends Herself At Public Appearance
Not a Lot of Popcorn, But A Lot of Race Card
|
Main
|
Oh My Dear Sweet Lord: Democrats, Including Black Democrats, Rethinking Support For The Party Due To Obama's Failures? »
August 13, 2010
I Feel My Pain: Obama Administration Whines To Media Friends How Goshdarn Tough They Have It, and Media Concocts Sympathetic Stories For Most Powerful People In The Country (Who, By The Way, Have Good-Paying Jobs With Benefits)
Taking a page from departed BP CEO Tony Heyward, who whined "I want my life back."
Did Bush not feel the stress of adversity and setback? Were his aides not overworked?
I guess not, because there were no media reports on how tough President Bush had it, and how we really ought to sympathize with the plight of the most powerful man in the world (and the quite powerful servants of the most powerful man in the world).
Ah, but the rules are different for someone the media sympathizes with -- someone whom the media takes pains to humanize, because the person is human to the media.
Unlike Bush, or unlike Sarah Palin, who are plainly not human, and to be treated as such.
But Obama?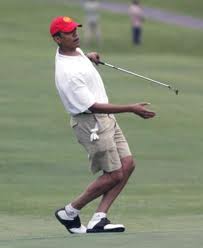 The patient was somehow different of late...
lifeless, passionless. It was as if all vitality and joy had
been drained of him. A broken man, a faded spirit.
Victor Davis Hansen notes a NYT article which invites you to pity the lot of the most powerful people in the nation.
It's short, and it's easily read-the-whole-thing. Here's as much as I can excerpt.
A Downright Mean Job


Yesterday, the New York Times had a puff piece on the "exhausting" nature of White House work, pegged to the recent wave of administration departures. The list of grievances: the grueling 12-hour days, the burden of dealing with an inherited recession, two wars, etc. Of course, in the weeks after 9/11, administration employees had to develop an entire protocol to prevent serial terrorist assaults in the wake of the most successful attack on the continental United States in the nation's history. I don't recall profiles of Bush people who were "exhausted" dealing with the partisanship and pressures.

...

The Times wants to draw a sympathetic portrait of the heroic Obama cadre that suffers so much on our behalf. These are six-figure jobs that wear out one's hands on the Blackberry, true, but serve as valuable stepping-stones to even higher-paying corporate jobs. And this is still a recession. This raise-the-bar griping will not go down well with the coal worker in Montana, the welder on a 30-story scaffold, or the oil worker offshore (e.g., it is not as if a Blackberry is going to blow up in one's hands, or an acoustical tile is going to fall and crush one in the West Wing). It is all too reminiscent of the various explanations we've heard for why Michelle's Costa del Sol sojourn was an understandable and much-needed refresher before the more arduous odyssey ahead on Martha's Vineyard.
Mickey Kaus noted snarkily that in the magazine world, any two incidences of a thing were enough to write an article about a "trend." Well, here's Katie Couric providing us with our second incidence, confirming a "trend" of media stories.
The job has aged him, as it did his predecessors. Dr. Michael Roizen at the Cleveland Clinic stated constant stress can age the Commander in Chief two years for every one year in office.

So I guess that means he's really turning 50.

President Obama has enough stress to last a lifetime... and as he blows out his birthday candles, war, recession and a giant oil spill won't magically disappear.

But I hope he's able to take a break tonight, forget his troubles and spend time doing something he loves.
"Spend time doing something he loves" -- Well, given that Michelle Obama was in glorious Spain mourning with margaritas, I guess he wasn't doing that.
Video of Katie Couric's Pity the Poor King nonsense and a schedule of Obama's arduous summer vacation schedule at the link.
Newest White House Staffer? Paul Rudd.
Thanks to Joanie (Oven Gloves).

posted by Ace at
10:53 AM
|
Access Comments