« Shock: After Careful Consideration and Dispassionate Review of the Evidence, Democrats Decide to Seek Lightest Possible Penalty for Good-Time Charlie Rangel
|
Main
|
Done! »
July 30, 2010
Overnight Open Thread
Sarah Palin - Political Kingmaker
Sarah Palin seems to have the magic touch when it comes to her endorsements. According to the NYT her record so far is 24-5 which is an amazing achievement. Part of this is that she seems to have a good instinct for insurgent candidates that can win, but her official backing also carries a lot of weight with Republican voters. Her endorsement alone seems enough to get people to take a second look at candidates and reconsider their votes. So she's building up a lot of good will and political IOUs - all of which would be very helpful for a 2012 run.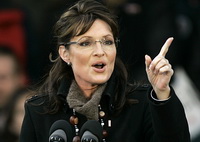 Are You a Black Farmer or Ever Pretended You Were?
Then you can still get in on the class action lawsuit that payed off so well for Shirley Sherrod. Just contact the firm Dewy, Screwum, and Howe Pogust, Braslow & Millrood and have them collect damages for the losses that you could have had. All they ask is 33.33% of your free government money.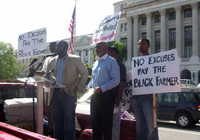 Chuck Norris Can Do Anything....Except Beat Obama
So Zogby ran a poll comparing various possible GOP candidates against President Obama in a 2012 run and Mitt Romney came out the best trailing Obama by only 2 points. Palin and Huckabee did far worse - trailing behind by 11 and 9 points respectively. But the real news is that not even Chuck Norris or Clint Eastwood can beat Obama - Chuck could only get 29% of the polled votes. So based on this poll the best options for the Republicans in 2012 is either Romney/Palin or Romney/Norris.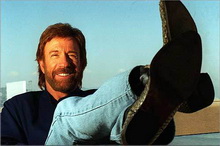 What's It Like To Be Schizophrenic?
Well here's a video from Janssen Pharmaceuticals designed to show what it's like to have a schizophrenic episode. Seems kinda creepy and scary. How come the voices never tell you to clean up the yard or go for a walk? Maybe this treatment would help.

Massage-gate Over: Portland DA Won't File Any Charges Against Gore
And I don't blame him. Given her failed polygraph, friendly call afterwards to Gore, non-semen stain, and her refusal to release medical records, her story was flimsy at best. Not that I don't believe that Al asked for a little chakra relief.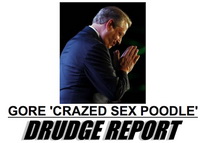 The World's Strongest and Strangest Drinks
Well if it can be fermented, then somebody someplace will make a drink out of it.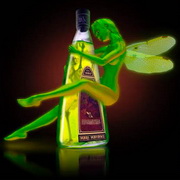 Girls and Guns
This is a classic site that Genghis reminded me of recently. And it's exactly what you expect and imagine.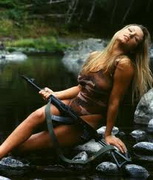 Some Awesome NASA Photos
From Apollo up to the shuttle.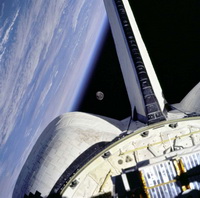 Pfizer Planning To Make Special Viagra For Kids
Well they claim it's to treat a child lung disease, pulmonary arterial hypertension. But cynics suspect it just to gain an additional 6 months of exclusivity before generics can be marketed.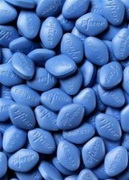 Crossing of the Streams
Zoe Deschanel and Katy Perry - together at last. Although I have to say Katy isn't looking as good as usual in this pic.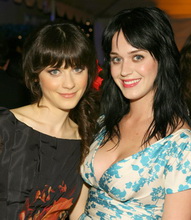 WTF Britney?
This is either the worst hair weave ever or she has a rodent infestation on her head.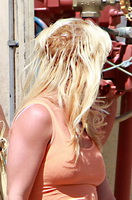 The Yahoo clique. Are you worthy?
Tonight's post brought to you by robot Bigfoot: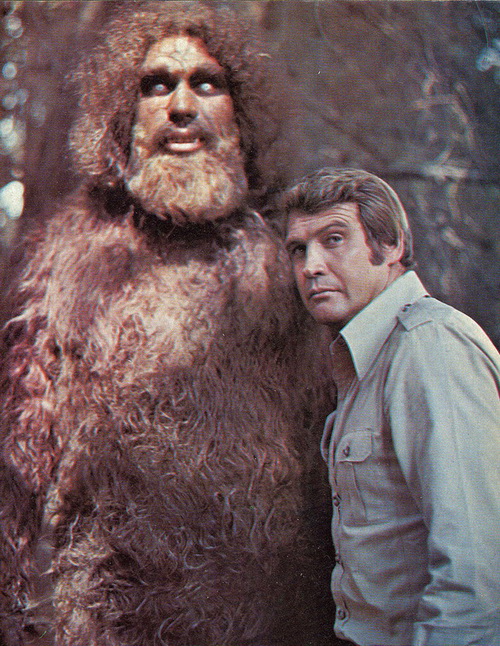 Notice: Posted by permission of AceCorp LLC. Please e-mail overnight open thread tips to maetenloch at gmail. Otherwise send tips to Ace.

posted by Maetenloch at
09:55 PM
|
Access Comments