« Watershed events in technological evolution
|
Main
|
Your Hazy, Lazy, Crazy....Not In CT Saturday Night (Nice Deb) »
July 17, 2010
Overnight Open Thread
Hello all M&M-type. Welcome to just another CatSaturday night ONT.
So here's a re-imagined trailer of Ferris Bueller's Day Off based on the Ferris Bueller-Fight Club theory in which Ferris is merely a figment of Cameron's imagination, doing what Cam's afraid of and getting the girl he can't. It probably helps if you've actually seen Fight Club. Oh and there might be a NSFW frame at 2:57.

Government To Start Tracking Your Gold Purchases And Body Weight
Thanks to a provision tucked in the Obamacare health bill the IRS will start tracking any gold or silver purchases:

...[s]tarting on January 1st in 2012, US federal law will require coin and bullion dealers to report to the Internal Revenue Service all gold and silver coin purchases and sales greater than $600.
No that is not an error, they tacked the gold coin tracking regulations into the health bill. They are just tacking stuff on wherever they can.
And from the 2009 stimulus bills comes a new requirement that the government keep an "electronic health record" for each person that tracks their 'obesity rating' which is likely to be their BMI. Nothing good will come from this but of course it was all done for your own good.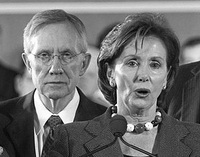 Ten Must Follow Tweetin' Sweeties On The Right:
TeriChristoph
KamaainaInOC
SissyWillis
MelissaTweets
Lash3
kshaidle
DinaFraioli
sistertoldjah
Cubachi
pinkelephantpun
Mel Gibson's Rant in Word Pictures
And it kinda looks like it sounds.

Drowning Doesn't Look Like Drowning
In fact to the untrained eye it can look entirely normal:

of the approximately 750 children who will drown next year, about 375 of them will do so within 25 yards of a parent or other adult. In ten percent of those drownings, the adult will actually watch them do it, having no idea it is happening.
Due to the Instinctive Drowning Response a person drowning is unable to wave or call out or even use their legs effectively. So if someone seems okay in the water but doesn't respond when you ask, they're probably not. And for kids in the water quiet = bad.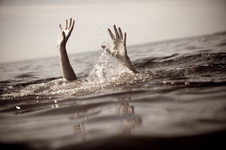 Only in Japan: Cat Weightlifting Game Show
So here they lay out fish and see how much much various cats can lift. It starts out easy but before long they're carrying off some pretty damn big fish. Which is no surprise I guess since cougars are known to carry deers up into trees.

Neo-neocon Discusses 5 Inch Heels

I refer of course to the five-inchers, that latest manifestation of the sky-high spike heel—higher than anything I wore in my reckless youth, much much higher than anything I'd dare to hobble around in now, higher than any shoe a sane human being should ever wear.
But luckily there's a lot of insane ladies.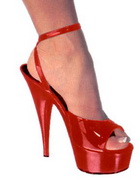 20 Cartoon Characters We'd Have Sex With
Well not we-we but more we-you. And for some reason they seem a lot sexier in these pictures - I suspect a little augmentation.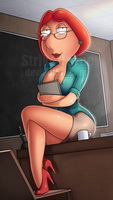 How To Chug a Bottle of Thunderbird but Still Seem Classy
Well now there's the 750ml super-goblet which can hold an entire bottle of hooch and it's only $12.99.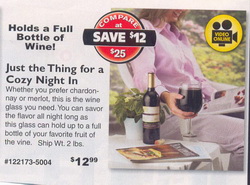 Pushing the Bacon Envelope: The Bacon Burger
Matt Blum is on a Bacon Odyssey and this time he tried a hamburger made entirely out of bacon. He liked it but his experience suggests that bacon is best enjoyed in units of 10oz or less.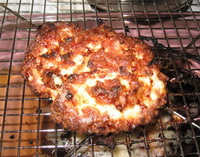 The Yahoo AoSHQ group. Bla bla bla. And don't forget about the Job Bank.
Tonight's post brought to you by breakups through the ages: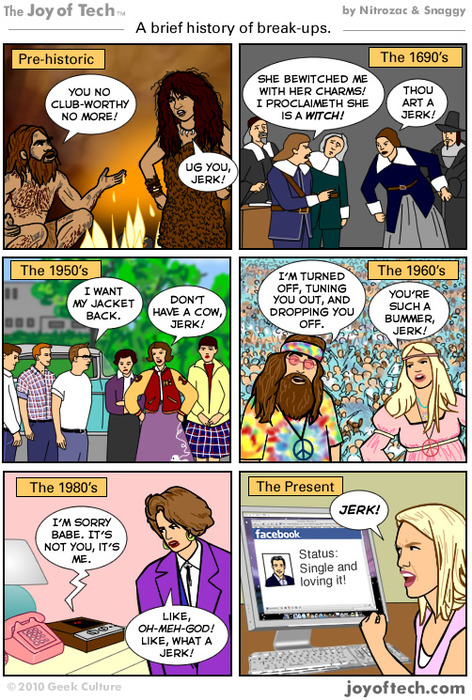 Notice: Posted by permission of AceCorp LLC. Please e-mail overnight open thread tips to maetenloch at gmail. Otherwise send tips to Ace.

posted by Maetenloch at
09:33 PM
|
Access Comments