« Deval Patrick Signs Bill, Avoids DiT's "Yes, I am That Stupid" Award
|
Main
|
Top Headline Comments 6-17-10 »
June 17, 2010
Thursday Financial Briefing
Stocks were flat in trading over the day. The Dow closed up slightly at 10,409.56 and the S&P 500 close down a bit at 1,114.61. CNBC assures us that
all is well in the equities world
. Fannie and Freddie were delisted from the NYSE, which makes me wonder: given that Joe Taxpayer shelled out
$145 Billion
or so to bail them out, what are the chances that money is ever going to be repaid? Between slim and none, as the old saying goes, and slim left town. More after the jump.
You know, I've often been struck by how much Jean-Claude Trichet reminds me of Vizzini out of
The Princess Bride
("Inconceivable!"). It turns out
I'm not the only one who made that connection
. Mauldin makes the splendid point that not
everyone
can run a trade surplus; if you run a surplus, that means someone else -- often
several
someone elses -- must run a deficit. But politicians continue to speechify about global trade and taxation as if it were somehow possible for all countries to run at a surplus. It cannot be done.
This
would make a pretty funny movie. I kind of envision one of those "all star cast" things they did back in the 1970's that always seemed to feature Shelley Winters or Red Skelton or Peter Falk. If you can get past the eye-watering disdain for the Tea Party in particular and Republicans in general,
this article
actually makes a good point about farm and agricultural subsidies. Farmers have been getting handouts from Uncle Sugar for long, long time -- if it's not okay for auto-makers, it's not okay for farmers either. BP is "convinced" to put $20 Billion into an escrow fund to offset claims resulting from the Gulf Coast oil-spill. In what I'm sure was a completely unrelated move,
BP suspends their dividend for the rest of the year
. Our cousins in Britain will no doubt take this news soberly and with a complete lack of rancor. Small businesses are being targeted by Uncle Sugar in a
massive tax shakedown
. Pull quote:
While Washington pays lip service to the challenges facing small businesses, it repeatedly chooses its own expansion over results. In effect, government has become a huge silent partner in all businesses, often taking a majority of the profits and forcing many unprofitable business decisions without the risk that it will be fired.
Contra
Art Laffer's recent column
on how the expiring Bush-era tax cuts would lead to a double-dip recession in 2011,
this article
from Messrs Wesbury and Stein argue that the economy will shrug off the expiration of these tax cuts. They then challenged Mr. Laffer to a booger-flicking duel, but Mr. Laffer has not responded to the challenge as yet. Another ominous sign of the feared
double-dip
. Spain's borrowing costs have
nearly doubled
in the past month, and
look to go higher still
. Meanwhile, Spain, the ECB, and the IMF all deny that a bailout is in the works. Shades of Greece, anyone? Via Insty, James Pethoukis on
why the economy won't improve enough
to save the Democrats' asses in the November elections. Also via Insty comes news that Knoxville
now allows "backyard chickens"
. The city ordinance only allows for up to 6 hens, and then only for eggs -- don't want the neighborhood kids getting traumatized when you whack a clucker's head off with a hostaet for the dinner stewpot that night. This feels like economic news to me for some reason. Housing starts in the US
fell 10%
in May. This points to continuing oversupply in private housing -- an inventory full of unsold and repossessed houses -- as well as expiration of the tax credit. Dr. Doom
dispenses a little financial medicine
. No one will take his advice, of course, but at least he can ride the "I saw it coming first!" scooter a few more years and maybe wrangle another book deal or two out of it. The French
receive news
that the retirement age is being hiked to 62. In a land with a 35-hour work week and where a 3-week August vacation is taken as a basic human right, this has provoked the usual Gallic outrage, and prompted one cheese-nibbling stick-figure Frenchie to moan:
"Today is a day of sadness and anger," agreed Jean-Luc Melanchon, who heads the Left Party. "The end of retirement at 60 is the end of a world."
Quelle agonie!
Break-ups
are always hard, dude. You move on, find another girl that looks just like her, and then dump her. In California, it is common for the bone-ers to
declare boning therapeutic and force more of it
on the bone-ees. This is why California is boned. Today's briefing brought to you by the Hypno-Toad. All glory to the Hypno-Toad!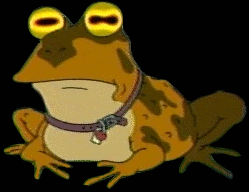 posted by Monty at
07:00 AM
|
Access Comments