« Obama: "I Will Not Rest Until That Hole Is Plugged. Now Watch This Drive."
|
Main
|
Anti-Sikhmetism/Sikh Conspiracy Thread »
June 04, 2010
Jackie Knotts: Sacred Honor Compels Me To Call Nikki Haley "A F---ing Raghead" And A Manchurian Candidate Programmed By "A Network Of Sihks" And Also To Note "We're At War Over There" (Which Is To Say: In India)
Ohmygod.
You know what? I'm really starting to understand how someone could be a liberal. If this is Republicanism... Oh my God.
It's not just the stupidity, small-mindedness, and racism. It's the utter shamelessness about this. This guy is stupid -- dumb as a stump -- and racist, but he's proud of that; that just proves he's "authentic" and "represents his constituents well."
This is really a lot more eye-opening that expected... or wanted.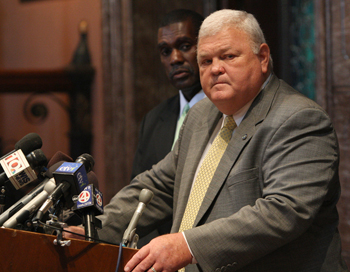 Pictured-- Front: State Senator Jackie Knotts;
Rear: A Unidentified Figure of Wild Eyes and Savage Menace
"She's a f#!king raghead," Knotts said.

He later clarified his statement. He did not mean to use the F-word.
Thank God for a small gesture towards social acceptability.
Knotts says he believed Haley has been set up by a network of Sikhs and was programmed to run for governor of South Carolina by outside influences in foreign countries. He claims she is hiding her religion and he wants the voters to know about it.

"We got a raghead in Washington; we don't need one in South Carolina," Knotts said more than once. "She's a raghead that's ashamed of her religion trying to hide it behind being Methodist for political reasons."

...

Knotts, a former boxer and cop from West Columbia, said he wasn't worried about being called a racist for the remarks he made. He says he was elected to the Senate to represent his constituents which he says he does well. He says many of his supporters are black.
Some of his best friends, too. Like that colored fella who pumps gas at the Circle-K. What's his name? Oh, right, everyone calls him "Blackie."
"This is Jakie Knotts trying to let the people know," he said...
What is this 3rd person thing?
He says he's called her a raghead before.

Knotts is backing Republican Lt. Gov. Andre Bauer for governor.
Of course.
....

After the broadcast, Knotts stood in a corner on the deck of the bar and defended his remarks.

"This isn't the first time I've said it," Knotts said. "I'm not on a crusade to downgrade her, but if someone asks me I'll tell 'em. And look here, someone wants to vote for her knowing the truth, vote for her."

Knotts said that South Carolina is a religious community.

"We need a good Christian to be our governor," he said. "She's hiding her religion. She ought to be proud of it. I'm proud of my god."
Ohmygod.
Knotts says he believes Haley's father has been sending letters to India saying that Haley is the first Sikh running for high office in America.
And? Oh right, she is secretly a Sikh. Or a Thuggee. Or a hashashim. One of those dark-complexioned bad guys who wear fezzes and poison-powder skull rings.
He says her father walks around Lexington wearing a turban.
Well there you go.
Nikki Haley's father (artist's conception);
Life motto? "Soon Kali Mal will rule de world!"
"We're at war over there," Knotts said.

Asked to clarify, he said he did not mean the United States was at war with India, but was at war with "foreign countries."
He's such a super-patriotic American he can't even be bothered to learn which countries we're at war in and which enemies we're at war against. It's just all kind of a brownish muddle to him. And that's enough knowledge of the war for Jackie Knotts.
I just heard he's a strict constructionist and therefore favors a formal Declaration of War Against Those People (You Know, Those People).

All this stupidity and nastiness, however, aren't something you should be worried about, because it was all intended "in jest."
The trouble is, some people do in fact think that calling someone a "raghead" is a real knee-slapper. This is not the defense they imagine it to be.
"My 'raghead' comments about Obama and Haley were intended in jest," Knotts said in a statement. "Bear in mind that this is a freewheeling, anything-goes Internet radio show that is broadcast from a pub. It's like local political version of Saturday Night Live."
Lenny Briscoe just emailed me to say, "Yeah, I'm sure it's a regular Algonquin Club Round Table."
More at Hot Air, including a link to Jenny Sanford's wishful cry that "We're better than this."

This Just In... I just got an email from Adolf Hitler. He's defending Mein Kampf as misunderstood -- "I mean, it was a freewheeling, anything-goes sort of thing... the Teutonic version of Saturday Night Live."
Another Email: This from Jackie Knotts. He writes:
"This picture depicts one of the earliest known sketches of The Groundlings."

Today's Ku Klux Klan
Faith.
Heritage.
Improv.