« Game 2 Of The Stanley Cup Playoffs - Chicago v. Philadelphia
|
Main
|
Another Ship Headed To Gaza; Israel Says It's Ready »
May 31, 2010
Overnight Open Thread - Memorial Day Edition
REMEMBER THEM
If you are able, save for them a place inside of you and one backward glance when you are leaving, for the places they can no longer go.
Be not ashamed to say you loved them, though you may or may not always have. Take what they have left and what they have taught you with their dying and keep it with your own.
And in that time when men decide and feel safe to call the war insane, take one moment to embrace those gentle heroes you left behind.
Written January 1, 1970 by Major Michael Davis O'Donnell
Dak To, South Vietnam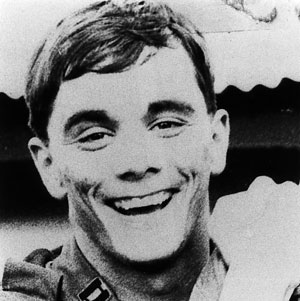 Major O'Donnell was Killed in Action in Cambodia on March 24, 1970. His remains were recovered in 1998 and interred in Arlington National Cemetery on August 16, 2001.
Thank You Soldiers - A Veteran's Day/Memorial Day Song
Amazingly this came out of a public school. Which recently seem to have focused on making Dear Leader songs for Obama rather than honoring soldiers or the US. Thanks to Dave C.

'Free Gaza' Flotilla Defeats the Israel Defense Forces
So says the estimable Daniel Pipes. While I hate to disagree with Mr. Pipes, I think he's wrong on this. Sure the whole incident will result in bad PR for Israel and be used to beat them up on the world stage. But they did intercept the boats, and I'm guessing the next flotilla will be a little hesitant to defy the Israelis. And if they aren't, well just sink'em and eventually they will stop It's not great to be condemned internationally but until such condemnation translates into real economic or military penalties, it's just posturing. And Europe excels at posturing.
Plus one assumption in Pipe's assessment is that the world's judgment of Israel is rational which I'm not convinced of at all. I believe most of it is driven by ideology, demographics, and a deep pool of latent anti-semitism. So any action by Israel is just a convenient premise for condemning them anyway. Israel could be the saintliest, most humane country in the world and it still wouldn't matter. So in that case why shouldn't they do what's best for them security-wise anyway - they're going to take the PR hit regardless.
Israel very much wants to be treated like a normal country by the rest of the world. But I've pretty much given up on this happening in the next few decades or even my lifetime. And once the Israelis give up on ever being accepted by the Europeans, it's going to be a very dark and bloody time in the Middle East.

Facebook To Ban Images of Mohammed?
Well that seems to be implied by their promise to Pakistan that after their banning due to Everyone Draw Mohammed Day that that "nothing of this sort will happen in the future." Of course they're a private company and can set their rules any way they like, but why should only Muslims get special protections from offense?
One Mom's Reaction to American Idol
Her life is ruined but I like how her husband just says I told you so. Thanks to genghis.
FAIL: How Not to Move a 100-Year-Old Statue
Well first you get a crane and some professionals. Oh wait - these were the professionals. Oops.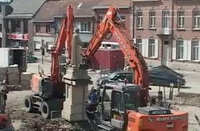 Skate Pups Come in Peace
From the deeps at Scotland's MacDuff zoo. Thanks to Peaches.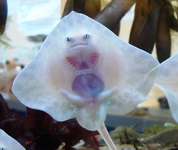 Subway Finally Agrees to Tessellate Cheese
Finally. Their previous cheese arrangement was sub-optimal!


Guns for Hire Get Their Own Online Comic
Because even private security contractors need their own comics.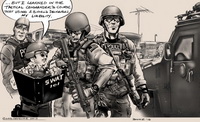 The group thingy. You can figure out the rest.
Tonight's post brought to you by the invasion of Iwo Jima, Feb. 19, 1945: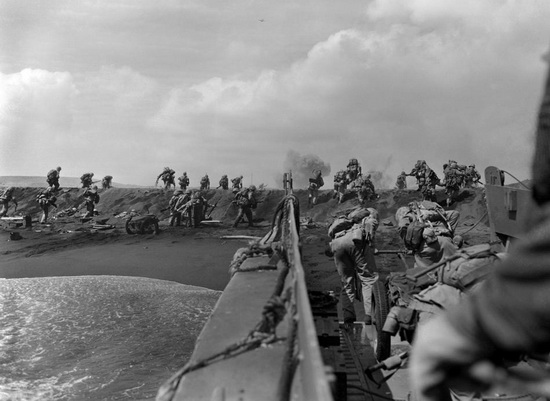 Photo taken by Joe Rosenthal.
Notice: Posted by permission of AceCorp LLC. Please e-mail overnight open thread tips to maetenloch at gmail. Otherwise send tips to Ace.


posted by Maetenloch at
09:44 PM
|
Access Comments