« Top Headline Comments 5-3-10
|
Main
|
Brit sniper silences two Taliban's dissent, sets new record in the process »
May 03, 2010
Mexico Is A Dangerous Place...Third In An Occasional Series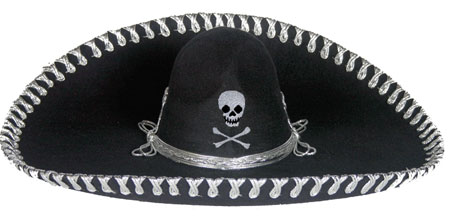 Mexico, the country that attacks the US for having the temerity to enforce it's immigration laws is under attack from Amnesty International for....the systemic abuse of illegal immigrants.
Rupert Knox, Amnesty's Mexico researcher, said in the report that the failure by authorities to tackle abuses against migrants has made their trip through Mexico one of the most dangerous in the world.

"Migrants in Mexico are facing a major human rights crisis leaving them with virtually no access to justice, fearing reprisals and deportation if they complain of abuses," Knox said.

Central American migrants are frequently pulled off trains, kidnapped en masse, held at gang hideouts and forced to call relatives in the U.S. to pay off the kidnappers. Such kidnappings affect thousands of migrants each year in Mexico, the report says.

Many are beaten, raped or killed in the process.

One of the main issues, Amnesty says, is that migrants fear they will be deported if they complain to Mexican authorities about abuses.

At present, Article 67 of Mexico's Population Law says, "Authorities, whether federal, state or municipal ... are required to demand that foreigners prove their legal presence in the country, before attending to any issues."
Chutzpah...thy name is Mexico!
I'm sure illegal immigrants and American tourists alike, would much prefer to take in the sights at say, the Grand Canyon, than the hell hole that is Mexico.
The purpose of this series...
In response to Arizona's immigration law, Mexico's Ambassador to the United States announced that his government issued a travel advisory to Mexicans saying they should avoid traveling to Arizona. It seems the Mexican government, despite its own stringent immigration laws, thinks expecting Mexicans in the US to follow US law is tantamount to harassment.
This got me thinking that perhaps we should focus on some of the dangers Americans face when traveling to Mexico. Exposure is really the only way to fight such chutzpah.

posted by DrewM. at
11:09 AM
|
Access Comments