« Times Square Cleared from Suspected Bomb
|
Main
|
Sunday Afternoon Open Thread »
May 02, 2010
Times Square Bomb Update
Looks like NY got very lucky last night.
"It appeared that [the bomb] was in the process of detonating and malfunctioned," said police spokesman Paul Browne.

A street vendor alerted a policeman on mounted patrol—Wayne Rhatigan, 47 years old, a 19-year-veteran of the force. In an interview, Mr. Rhatigan said he smelled gunpowder coming from the vehicle and went toward it, thinking it could explode at any second. He grabbed two other officers to help move people away from the smoking Pathfinder as he called for backup at 6:34 p.m.

Police blocked the area from West 43rd to 47th streets along Broadway and Seventh Avenue with metal railings. Parts of West 48th Street were also closed. Most of the streets were reopened Sunday morning after police removed the Pathfinder.

Police later said the Pathfinder was spotted on security video at 6:28 p.m. The video wasn't clear enough to identify the driver and no videos have been found showing the suspect in the attack, police said.
Interesting note about the location of the attempted attack.
The dark green Nissan Pathfinder with tinted windows was parked near the junction of 45th Street and Broadway.

The location is also adjacent to the Viacom building, fuelling speculation that it might be linked to the company's controversial South Park cartoon which recently depicted Prophet Muhammad in a bear suit.
Could be a conincidence. Or not.
Since no one was hurt (this time), an amusing observation from TV's Andy Levy.
Watching a mayor give an emergency press conference while still in black tie from a party makes me feel like I'm living in a Batman movie.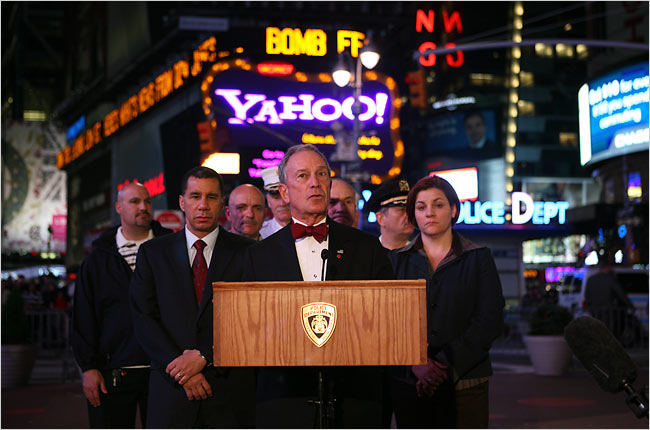 posted by DrewM. at
01:45 PM
|
Access Comments