« Top Headline Comments 4-29-10
|
Main
|
Voting Today: Puerto Rico Statehood »
April 29, 2010
Mexico Is A Dangerous Place...Second In An Occasional Series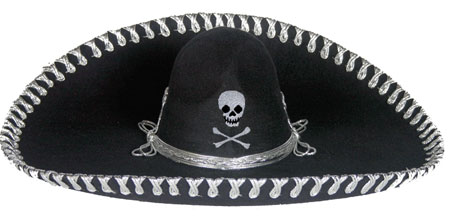 Those racists at the University of Texas have recalled all students, faculty and staff from northern Mexico because they fear brown people. Or out of control violence. One or the other.
UT officials estimate around 40 people will be affected by the recall, which covers seven Mexican states — Chihuahua, Coahuila, Nuevo Leon, Sonora, Tamaulipas, Baja California and Durango. UT Austin officials took a similar action earlier this month, directing all study-abroad students in Monterrey to return home.

In March, the Texas Department of Public Safety took the unprecedented action of warning college spring-breakers not to cross into Mexican border cities, saying their safety could not be guaranteed.

"The UT System and its institutions value their close association with Mexico. That said, the safety of UT students, faculty and staff is of the utmost importance and we feel these actions ... are prudent given the escalation in violence in these regions," said Francisco Cigarroa, chancellor of the UT System.

On Wednesday, three dozen gunmen stormed the Holiday Inn Centro and the Hotel Mision in Monterrey, kidnapping three businessmen, a female guest, two receptionists and, possibly, a security guard. Last month, two students from the Monterrey Institute of Technology and Higher Education were killed by crossfire during a shootout between soldiers and drug traffickers.

The violence is attributed to turf wars between Mexico's powerful drug cartels.
Meanwhile, illegal immigrants to the United States face the indignity of having to follow the law.
Don't forget...plenty of groups want you to boycott Arizona. I say, Flagstaff is an interesting place to drop in on.
Thanks to mpur in Texas for the UT story and Slublog for the logo.
Also thanks to all have sent tips to dangersinmexico at gmail (dot)com. I'll be using more soon.
The purpose of this series...
In response to Arizona's immigration law, Mexico's Ambassador to the United States announced that his government issued a travel advisory to Mexicans saying they should avoid traveling to Arizona. It seems the Mexican government, despite its own stringent immigration laws, thinks expecting Mexicans in the US to follow US law is tantamount to harassment.
This got me thinking that perhaps we should focus on some of the dangers Americans face when traveling to Mexico. Exposure is really the only way to fight such chutzpah.

posted by DrewM. at
10:41 AM
|
Access Comments