« Obama: As I've Always Said, I Promise I Won't Raise "Any Form of Taxes" Income Tax on the Middle Class
|
Main
|
Rahm Emmanuel Supports Methane Production »
April 22, 2010
Blagojevich Wants to Subpoena Obama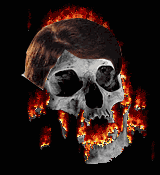 Actually, this is a false deployment of Slublog's Flaming Blago-Skull. I am just posting it because I haven't had an excuse to in forever.
I really don't have an excuse now, either, because this is pretty much a non-story.
But damn it's funny.
Ousted Illinois Governor Rod Blagojevich has asked a federal judge subpoena the president to testify at his corruption trial.

In a motion filed Thursday with U.S. District Judge James Zagel, Blagojevich attorney Sam Adam says President Barack Obama has direct knowledge of allegations made in the indictment.

It would be extremely unusual for a sitting president to testify at a corruption trial.
Let me just say it's unlikely the judge will grant the motion. Supposedly US presidents can be compelled to testify this way, but, after the Clinton debacle, I have a feeling judges are going to come up with reasons to not grant such motions.
Even if the motion is granted, which it probably won't be, I doubt very much that Obama has much interesting to say. Or that he would say, even if he had something interesting to say. It strikes me as very unlikely he would have cared so much about this seat he'd be willing to engage in bribery. Note that that's not me saying I think he's a paragon of incorruptible virtue. Far from it. It's just that even serial liars are capable of making rational decisions about "What does this get me, and what could I lose?"
I mean, I'm sure he'd break the law for something he cared about. Like healthcare. Or raising taxes. But getting his top pick for a Senate seat which would almost surely stay liberal Democrat no matter what he did? Surely he wasn't that invested in his particular successor to play footsie with bribery.
I am sure there are a lot of overly-optimistic conservatives, always really hoping that this or that subpoena pans out, and I guess it's fine to hope like that, but the long history of this sort of thing suggests that nothing will come from it. I just want to caution against that; I remember when I was on that bandwagon myself, in the Clinton years, and was always hoping that this House panel would finally get to the truth.
I wound up politically broken-hearted every six months.
Except for the Lewinsky thing, and that didn't really pay off politically at all. Clinton stayed in office and the Democrats picked up seats.
This is PR move by Blagojevich -- he and his wife are now on realty-tv shows every year, after all -- and some kind of attempt the pressure Democratic-connected prosecutors to avoid a big trial and give him a generous plea offer.
Typical We'll put the system on trial! desperation.
Thanks to Star Chamber Maid.

More Details: Thanks to Intaglio. Here's the Chicago Sun-Times summary, and here's the actual defense filing.
Defense lawyers in the case of Rod Blagojevich moved today to issue a trial subpoena to the President of the United States, asking for his testimony at this June's trial.

They argue in a federal court filing that President Obama would act as a corroborating witness to former governor Blagojevich.

"There are two conflicting stories and the defense has the right to admit evidence that contradicts the government's claims. Only President Obama can do this," defense lawyers wrote.

Last year, Blagojevich's lawyers asked for FBI reports of an interview with President Obama.

The White House has declined comment.

"As of today's date, the defense has not received any notes, transcripts, or reports from President Obama's interview with the government," defense lawyers wrote.

"President Obama has direct knowledge to allegations made in the indictment. In
addition, President Obama's public statements contradict other witness statements, specifically those made by labor union official and Senate Candidate B (Valerie Jarrett). It is anticipated that labor union official will be a witness for the government. His accounts of events directly related to the charges in the indictment are contradicted by President Obama's public statement," defense lawyers wrote.
Doesn't say what contradictory statements they have in mind. Note: Actually, Blago's brief does say what statements they have in mind -- but they're all redacted by the court. The only thing that you can tell from the unredacted parts is that Blagojevich is disputing whether the president had any representatives taking part in these "deals."
They are specifically demanding Obama come to court to sit in the witness box, instead of being allowed to give videotaped testimony in a deposition, which reinforces my belief this is a motion intended to hassle the prosecution.
Oh: Defense also says they haven't received any notes at all from Obama's two-hour interview with the FBI. That won't do -- the defense gets anything material. I can't see how it was material to interview Obama at all and yet the contents of that interview are immaterial to the defense's case.
I imagine Blago's going for some kind of "everyone does it, this is the normally-accepted method of doing things in Chicago" defense, and Obama having a representative at these deal-making meetings would support that.
Except I don't know if something illegal can be made legal just due to common practice. Everyone knows this is how things are done in Chicago -- but that's not a defense to a corruption charge.

posted by Ace at
02:15 PM
|
Access Comments