« Overnight Open Thread
|
Main
|
Top Headline Comments 4-12-10 »
April 12, 2010
It's A Boy! (tmi3rd)
Hi, Morons- many of you kept me company in the wee hours of the morning a couple of nights ago as Mrs. Tmi3rd was in labor. I'm proud to announce that tmi4th was born on April 10 at 5:04 CDT, and Mommy and Little Guy are doing quite well. At birth, he was 9 pounds 10 ounces (the sonograms were estimating 10 pounds 11 ounces) and 21 3/4 inches long (insert obvious length jokes here- Daddy's pretty proud of his little man). Attempted pics below the fold, as well as a somewhat extended thank-you note to the Morons...
I first discovered this site back in 2004 sitting at a news desk in Lake Charles, LA, right before I got married. In addition to finding a voice I agreed with, the site made me laugh, and I developed a set of online contacts that slowly turned into an e-mail exchange. I was struck by how smart and funny these people were- Ace's incredible snark-fu, DrewM's wittiness, Purple Avenger's take on things, a strange humpback named LauraW, and a central Texan named Dave, among countless others... and a few years later, a bunch of us got together in Manhattan for what was the first Moron Meetup. Occasional poster "someone" remarked that it took a guy living in Texas to get a bunch of New Yorkers together.

It was wonderful.

A broad group of men and women got together from all over the region and country with one thing in common: the pursuit of liberty. We didn't all agree on everything, we all had different ideas about how things should happen in the world, but amidst the AoSHQ belief in Val-U-Rite vodka, Thai tranny hooker porn, and hobo hunting, I saw America in a way I never had before.

Fast forward to two nights ago, and a nervous dad-to-be couldn't do much but sit in the room with his wife in labor. There were no real worries- I work at this hospital and know the drill, but one is still nervous for the birth of one's first child.

A bunch of Morons in the overnight thread, from all over the country, held my hand and helped keep me calm. Reading your replies to my wife made her laugh, made us laugh, and reminded me very much that the term "Moron Nation" means something.

We are drawn here by our love of life, laughter, and principles of conservative liberty, and somehow it translates into friendship and fellowship in real life. I've had the honor of meeting many of you in real life and am awed by you... you're as wonderful folks in person as you are online.

So here's my tribute to you, Morons... I have faith in raising my child here- in the United States of America- because of you, the people who remind me that I'm not alone in this. Be it politics, be it childbirth, be it hobo hunting... it seems that the Moron Nation is there when I need it to be. Thank you all for everything.

Ladies and gentlemen of the Moron Nation, I present to you tmi4th- the newest member of the Moron Nation and a little guy who will benefit from the wisdom and love that he's encountered from all of you.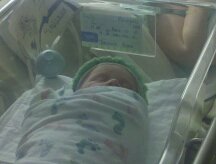 posted by Open Blogger at
01:54 AM
|
Access Comments