« Obama Admin: 20% Recidivist Rate for Terrorists "Isn't That Bad"
|
Main
|
Some Crank (Who Just Happened To Be A Lead Author Of The 2001 UN Climate Report) Says Temperature Data Is Unreliable Proof Of Climate Change »
February 15, 2010
BREAKING: Sen. Evan Bayh (D-IN) Will Not Seek Re-Election
Above the Post Update and FLAMING SKUUUUUUULL: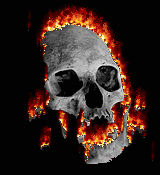 According to the Indiana Secretary of State, candidates must file for the primary by Friday, February 19 at 12-noon. It must be accompanied by nomination forms signed by 4,500 IN voters.
It is presently snowing in Indiana.
Original Post:
Another very likely Republican pick-up.
Indiana Sen. Evan Bayh will not seek re-election this year, a decision that hands Republicans a prime pickup opportunity in the middle of the country.

"After all these years, my passion for service to my fellow citizens is undiminished, but my desire to do so by serving in Congress has waned," Bayh will say.
Now, the puzzled guess-work: Why would Bayh quit? He polls way ahead of his potential GOP challengers. Like 20 points ahead. He's got a $13 million warchest.
So, scandal, family matters, or "family" matters?
More: Some are suggesting the set-up to a 2012 run against the President. Bayh would have to re-cast himself as a Beltway outsider, so that makes some sense.
I just want to re-emphasize that this comes as a shock because Bayh was polling 20 points over Coats. His senate seat was designated "Leans Democratic." No one really expected him to lose.
How does this affect Republican chances in the Senate?
Here is Mallamutt's list of places Republicans could pick up seats currently held by Democrats with my notes on what is expected:
1. North Dakota

[Expected to go Red]

2. Arkansas [Toss Up]

3. Delaware [Expected to go Red]

4. Nevada [Expected to go Red]

5. Illinois [Toss Up]

6. Pennsylvania [Toss Up]

7. Colorado [Toss Up]

8. Indiana [Now Open]

9. New York (Gillibrand) [Staying Blue]


10. California [Staying Blue]

Don't forget, Republicans also have to hold on to seats in New Hampshire, Missouri, Ohio, Florida and Kentucky.
So, will Republicans retake the Senate? Um, NO. You're telling me they're gonna sweep all those states and lose none? I got a bridge I'd like to sell ya.

posted by Gabriel Malor at
10:42 AM
|
Access Comments