ę Saturday Afternoon Open Thread
|
Main
|
Reagan's Birthday Ľ
February 06, 2010
How Much of the Deficit Did Obama Inherit?
An analysis by the numbers.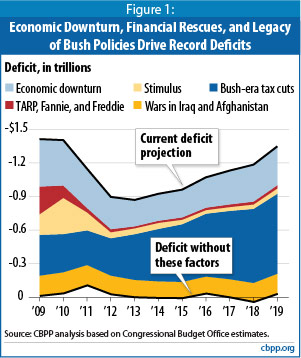 What's wrong with this picture?
Largely that it is politically motivated to provide cover for Capn Wonderful through year one.
What the CBPP did was take their least-favorite policies and add the the costs of those policies up until they matched the 2009 deficit. Thatís not a proper way to compute a deficit, as it will only be accurate for the calibration year: 2009.
The nugget in the story (read it all please) is that discouraging business growth exacerbates the problem. Business and industry react to conditions just like people do, i.e. self-preservation. They tighten their belts when the waves come crashing, to weather the storm. Anecdotally, my own company started reading the tea leaves in the early summer of 2008, and we adjusted our plan accordingly.
And by that I mean "down". Way down. We're sucking it up to ride it out.
This is why "job incentives" can't work. No fool is going to throw good money into the maw. We cannot take on long term obligations in the present situation, apart from funded initiatives. Cause we're not dumb.
Most people who manage the balance sheet are not fools.

posted by Dave In Texas at
04:33 PM
|
Access Comments