« It's Spending Freeze Mania!
|
Main
|
Health Care: It's Not Just Resting, It's Dead »
January 26, 2010
Overnight Open Thread (Mætenloch)
Good evening M&Ms.
Tech Support Tuesday
Over the last few years I've become a big fan of Firefox. It rarely crashes, handles lots of tabs, and has a ton of add-ons that make surfing the web so much more pleasant. Here are a couple I think are particularly worthwhile:
Adblock Plus
Blocks ads and pop-ups. And yeah you should disable it on AoSHQ or else the ewok may starve or be forced to go hobo.
Google Toolbar
Lots of useful features - my favorite is that it lets do a Google search on anything highlighted from the right-click menu.
BetterPrivacy
Automatically deletes flash tracking cookies
Copy Plain Text
Lets you copy and paste stuff off a web page without any annoying formatting
Shorten Url
Automatically shortens urls from a right-click menu
Long Url Please
Expands shortened urls so you can see what you're about to click into to.
AutoPager
Automatically loads the next page when you get to the end of the current one.
Reload Every
Lets Firefox automatically reload a certain page every so many minutes.
Hillbuzz Calls Out the Moron Commenters: "too many punk-ass, young male Eeyores"
The gauntlet has been thrown down. Are you prepared to poke it with a stick and take a whiz on it? And note that when these guys threaten to make someone their bitch, they may not exactly be speaking in metaphors.
Dennis Prager rebuts Pony Tail Guy
It's a Fisking done more in sorrow than in anger.
The Thunderscreech - the Loudest Plane Ever Built?
The XF-84H "Thunderscreech" was an experimental American-built turboprop plane built by Republic Aviation back in the early 50's. It was propeller driven except that the blades were travelling at mach 1.18. The propeller spun at a constant 3000 rpm and thrust was adjusted by altering the blades' pitch. It was designed as a carrier-based fighter that wouldn't need any catapult assistance to take off. And it was loud - possibly the loudest aircraft ever built.

On the ground, they could reportedly be heard 25 miles away. Unlike standard propellers which turn at subsonic speeds, the outer 24–30 inches of the blades on the XF-84H's propeller traveled faster than the speed of sound even at idle thrust, producing a continuous visible sonic boom that radiated laterally from the propellers for hundreds of yards and was reportedly strong enough to knock a man down.
Mercifully the XF-84H program was cancelled in 1956 after only 10 hours of flight. Thanks to ArthurK.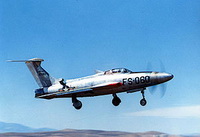 20 More Signs You Need To Go On A Diet
When you have to put truck shocks on your bike.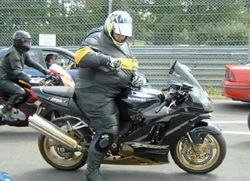 The Ten Worst Passwords on the Web
I hope none of you are using any of the following: 123456, 12345, 123456789, Password, iloveyou, princess, rockyou, 1234567, 12345678, abc123
On the other hand I think the 'Best Practice' of requiring passwords to have upper and lower case letters, numbers and a symbol , longer than 8 characters and be changed every 3 months actually results in worse practical security. It pretty much guarantees non-memorizable passwords that will end up living on post-it notes stuck somewhere in the office.
Tonight's post brought to you by TV Guide, 1982: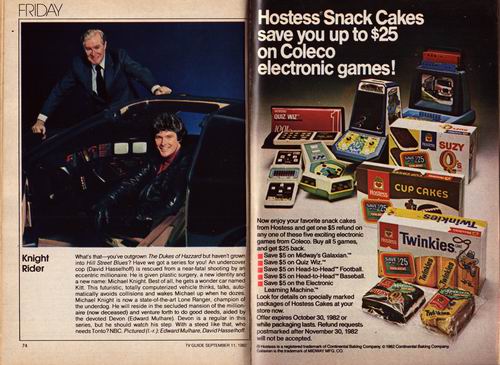 Notice: Posted by permission of AceCorp LLC. Please e-mail overnight open thread tips to maetenloch at gmail. Otherwise send tips to Ace.

posted by xgenghisx at
09:43 PM
|
Access Comments