« New Poll: Harry Reid Getting Killed In Reelection Bid By Just About Everyone Including Other Democrats
|
Main
|
Head of Al Qaeda on the Arabian Peninsula Killed by Catholic Working in Emergency Room and Drone-Strike but Mostly Drone-Strike »
January 15, 2010
More Tone Deafness By Democrats In MA Senate Race: You Know What Symbolizes Greed? The World Trade Center
First they can't spell the name of the state she wants to represent right and now they decide that the symbol of greed for all that needs to be punished is...the World Trade Center?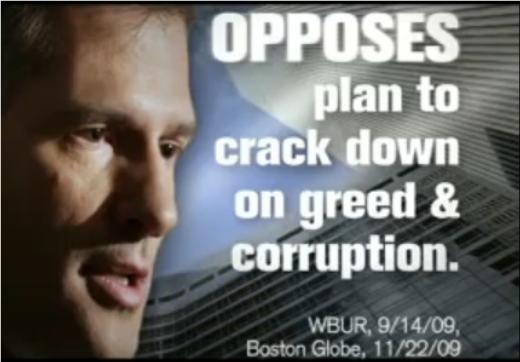 A National Republican Senatorial Committee spokesman, Brian Walsh, attacked its use.

"Using the image of a site where over 2,700 Americans died in a terrorist attack to distort Scott Brown's position on regulating Wall Street is both distasteful and disrespectful. Martha Coakley should immediately renounce this ad and call for it to be removed from the airwaves," he said.
The DSCC which ran the ad is pulling it and will remove the image. Still the damage is done. This will be the topic today not the message of the spot.
Let me ask a question. Are Democrats trying to throw this election? This woman and everyone around her is a moron. Even when people try and help her, they klll her.
As I said in a comment late last night in one of the threads...
If for one second I believed in conspiracy theories and that the Republicans had the smarts to pull one off, I'd swear Coakley is a plant.

It's like a bunch of drunk and/or stoned poli-sci students sitting around their dorm at 3am and thought, "what kind of idiot would the Democrats have to run to lose Teddy Kennedy's seat 3 months after his death?"

She's the perfect freaking storm of stupidity.
Yeah, I'm quoting myself now. If POTUS can do it, so can I.
Speaking of the Dear Leader, he may show up in MA after all.
I doubt this though.
First, his record in NJ and VA was, um, not good. He can't afford to step into a race unless, unlike the Olympics, he can deliver.
Second, can he really do a full on partisan event with the Haiti situation? Put aside for the moment the plight of the Haitians themselves but there are thousands of Americans unaccounted for. This would be an awful image.
H/t for the WTC story to Jim Geraghty.
alexthechick brings teh funny in the comments.
Danny Glover is smart enough to not to use that image.
Thankfully Danny Glover isn't running the DSCC

posted by DrewM. at
12:36 PM
|
Access Comments