« Report: Hasan Promoted, Given Positive Evaluations, Even as His Superiors Voiced Concerns Over His Competence and Stability
|
Main
|
Palin Signs on With FoxNews, as Contributor »
January 11, 2010
Would-Be TSA Head: Can't Have a "War" on Terror; Effort to Stop Terror Doomed; and Stopping Terror Should Be No Higher a Priority Than Global Warming and Education
BONUS! He Takes Some Terrorists Seriously!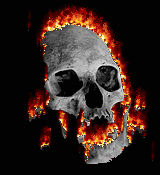 This statement would be jackass if it came from anyone.
But this guy, specifically, seeks a job in which his only job is to stop terror attacks on planes. And he doesn't consider it a top priority. Or, if it is a "top" priority, he's pretty promiscuous in in giving that designation to a lot of priorities.
His belief is that "terror" (one can hear the sneer-quotes in his voice) should be at a level of "parity" as far as prioritization with global warming and education.
He also talks rather stupidly, I have to say. He peppers his speech with not-really-appropriate uses of fifty cent words, as when he speaks of "matrices" as regards the war on terror. I take this as a sign of stupidity, honestly. There are situations where the fifty cent word is the right word, and there are situations where it's the wrong word. And someone who can't tell the fucking difference is probably below-average in intelligence or at least lacking confidence in his brainpower. So, rather than speaking plainly but lucidly, he tastelessly tosses in a bunch of SAT Vocabulary Builder words and thickwitted academic-speak to give the transparently-erroneous impression he's bright.
Bonus: He also speaks of "connectivity" with Israel, by which he means "relations" or "an alliance." Because if you say "connectivity" instead of the proper word, that makes you smart.
I like promoting people too stupid to speak properly to sensitive positions in which they have responsibility for protecting my very life. Or, should I say, "There's a matrices [sic] of positive mitigation for the connectivity of the dull-witted with positions of resplendent responsibility."
I didn't even cover the previous revelation that, as an FBI agent, he searched sensitive files on his ex-wife's boyfriend and passed those files on to his cop-buddies so they could harass this guy.
And then lied about it to Congress, while under oath.
Southers told the Senate Homeland Security and Governmental Affairs Committee and the Commerce, Science and Transportation Committee (both panels had to vote on his nomination) about the incident in a sworn affidavit submitted in October. Southers said he was censured by the FBI because he had, 20 years ago, "asked a co-worker's husband, who worked for the San Diego police department, to run a database check on my ex-wife's new boyfriend." Southers explained that he had only been separated from his wife for a very brief time and was "concerned for the safety of her and my infant son." The search turned up an outstanding arrest warrant for the man, but Southers admitted that "it was a mistake to have used my official connections to investigate the matter."

On Oct. 27, the commerce committee approved the Southers nomination, with just two senators -- Republicans Jim DeMint and John Ensign -- voting no. (They were unhappy with Southers' refusal to take a position on whether the TSA should be unionized.) On Nov. 19, the homeland security committee approved Southers unanimously.

But something was wrong. Just before the homeland security committee vote, Sen. Susan Collins, the ranking Republican on the panel, learned that Southers' sworn account of the FBI censure was incorrect. She asked him to give her the straight story.

On Nov. 20 -- the day after the committee voted to approve him -- Southers sent a letter to Collins and committee chairman Sen. Joseph Lieberman admitting the affidavit was wrong. As it turned out, he had not asked a friend to do the database search -- he did it himself. And there was not just one database search -- there were two. And he shared the information with others.
It was a major change in the story -- one that some senators on the homeland security committee knew nothing about when they supported Southers. Says a spokesman for GOP committee member Sen. Tom Coburn, who voted for Southers: "He did not know about it on November 19, and if he had known, it would have made a difference."
They are going to kill us.
It's that simple.
They are going to keep up this crap, with corrupt incompetents who think global warming should be as high a priority as terror installed as do-nothing heads of an already-failing TSA, until hundreds of Americans are killed, and then they are going to apologize and claim they've finally "gotten the message," and then, they are going to keep doing the same fucking thing until more people die.
Don't Worry -- He's Keeping a Weather Eye Out for Christians. It's only politically correct to monitor one type of would-be terrorist, so that's where this Mensa Chapter President's focus is at.
This guy is a moron. This is plainly a sop to the left and a sop to "diversity" in hiring, and even in that case, I'm certain we could find a lot of people actually qualified for the position that check the right Affirmative Action boxes.
Note how effusive he is in discussing this topic. Compare to his "matrices" talk about the futility of fighting actual terrorists.
Thanks to SlaveDog.
Prominent Democrats Defend Southers in the Comments. Wow, another day of big-time politcos commenting here.
I don't get it. He's light skinned, he barely has any hint of 'Negro dialect'.

What's not to like about this guy?

Posted by: Harry Reid

Well, I'm still waiting for my coffee.

Posted by: Bill Clinton