« Kids: It's not you. You know I love you. Your folks on the other hand... [krakatoa]
|
Main
|
Stimulusmania...Six Million For Hillary's Pollster »
December 09, 2009
Uh, Oh...The Scandi Menace Has Taken An Ominous Turn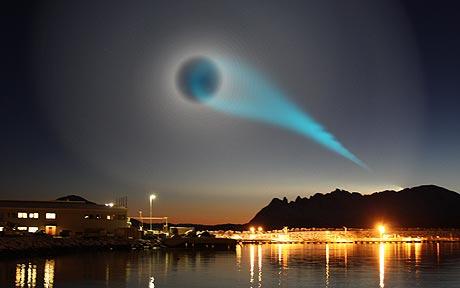 The light was captured by amateur photographer Jan Petter Jorgensen while he was on his way to work at a salmon factory.

"The light appeared for 2-3 minutes. I could not believe my eyes, and got the shivers and was quite shaken by it", Mr Jorgensen said.

Morten Kristiansen, who saw the light phenomena from Sortland in northern Norway, added: " A large ring appeared, and then spread out, sending a green beam down to earth, "says
More pictures of the light, form different vantage points here.
Clearly the Scandis are outpacing us in the next generation of laser light shows. We can not let this Laserium gap widen!
Actually, perhaps it's simply a cosmic sign designed to confirm that Obama is The Chosen One. I mean this light appeared over Norway, Obama is going to Norway to accept his Cracker Jack Nobel Peace Prize. Coincidence? I think not.
Update: Enhanced image shows true meaning of the light.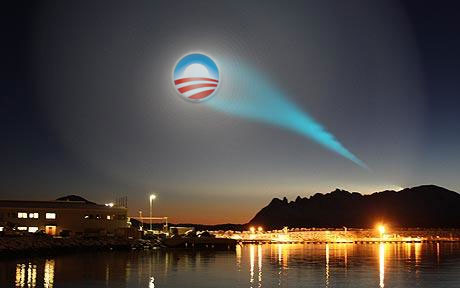 Thanks to Alice H. for the image and Eddie for sending it along. You can find both of them and several other familiar names over at Doubleplusundead.

posted by DrewM. at
02:23 PM
|
Access Comments