« And Climate "Scientist" Michael Mann to be Investigated, Too
|
Main
|
College Democrats Implicated in Election-related Bribery »
December 01, 2009
Huckabee: It's Disgusting That People Making Political Evaluations Would Make Political Judgments Over My Political Decisions As an Elected Poltical Official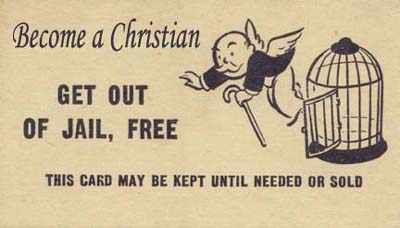 Grieve not for the police I inadvertently had a role in killing. Grieve for me.
Under fire for commuting the sentence of suspected cop-killer Maurice Clemmons, former Arkansas Gov. Mike Huckabee on Tuesday called some of the criticisms "disgusting" and suggested they were attempts to score political points.

"It really does show how sick our society has become that people are more concerned about a campaign three years from now than those grieving families in Washington," Huckabee said during an interview on Joe Scarborough's radio show. "It is disgusting, but people use anything as a political weapon."
Huckabee moves from his usual poor-me bullshit to a more substantive defense of his actions, and one that actually makes some sense:
Huckabee granted Clemmons, a suspect in the killings of four police officers in Washington state over the weekend, clemency in 2001. He had served 11 years in prison after being sentenced at the age of 18 to 60 years in prison for burglary and theft and was set to serve the 60 years, in addition to the 48 years he was already serving on five felony counts.

After his sentence was commuted, Clemmons was paroled by an Arkansas board and moved to Washington in 2004, where he was charged with eight felonies prior to gunning down the police officers in a coffee shop.

Clemmons was shot and killed Tuesday morning by an officer investigating a stolen car.

Huckabee has been thrashed in the right-wing blogosphere by leading online conservative voices who have criticized his commutation of Clemmons' sentence.

In addition, Minnesota GOP Gov. Tim Pawlenty – one of Huckabee's potential challengers for the GOP presidential nomination in 2012– said Tuesday that he would not have granted Clemmons clemency if he had been in Huckabee's position.

"I don't think I've ever voted for clemency," Pawlenty told conservative radio host Laura Ingraham. "We've given out pardons for things after everybody has served out their term, but again, usually for more minor offenses. But clemency? Certainly not. Commutation of sentence? Certainly not.

Huckabee defended his choice to grant the Arkansas felon clemency by insisting that Clemmons original sentence went too far.

"If he were a white kid from an upper middle class family he would have gotten a lawyer and some counseling," Huckabee said. "But because he was a young black kid he got 108 years."

Huckabee said the sentence was "far disproportionate from any other punishment in Arkansas at the time for a similar crime."
It does make some sense. Not enough, but some. Here's the thing: Maybe this guy was oversentenced. Maybe. But Huckabee's primary decision turned on an evaluation over whether this guy was reformed and fit to be returned to free society.
Let us just say on that count his decision can be described best by the internet-put-down FAIL.
Here are my two major problems with Huckabee, apart from his "compassionate" Social-Democratic-Christian soft-socialism. (I mean Social-Democratic-Christian in the European sense -- important, big parties in Europe are pretty damn socialistic on economic/"social justice" issues, but are more moderate and rightward on other issues, especially morality and the like.)
The first is that I find him so transparent and shameless in his manipulations that I weep for those who are somehow prey to it. He's underhanded and mercenary and self-pitying and always manages to be nasty with that smooth, soft demeanor. I just hate his guts on a personal level. It bothers me that he's so damned obvious about his manipulations and that many people's bullshit detectors are so defective they fail to go off.
The second is that he is simply not savvy enough to be President. He's a chump, a rube, a simple-minded dupe. We don't know yet what his reasons for pardoning this particular possibly-oversentenced repeat felon are, but we know the long sordid history of his pardons: left-leaning pastors knew they only had to utter the magic words "Saved by the Grace of Christ" to Huckabee and there was a fair shot that hardened career criminals would get the Get out of Jail Free card they sought.
Can someone be this easily gulled, over and over, and yet be crafty and devious enough to defend America against a host of enemies and adversaries?
Some might say my criticisms are contradictory: in the first criticism, I accuse him of being too devious; in the second, not devious enough. I don't think that's true -- I don't think he's devious enough in his manipulations, because they're so crude and obvious and shameless and transparent.
I think he's a rube. And a sneaky one But unlike a successful politician and serious threat to win the presidency, he's not sneaky enough. He's like a six year old with cookie-crumbs all over his face who keeps saying the Invisible Cookie Thief took the cookies.
I think he's only capable of fooling the 20% of the country that is the most fooled by his particular act (i.e., those who want to believe the best about a man representing himself as God-fearing and morally-straight) and that's not enough for me.
If you're going to be devious and sneaky and manipulative your act has to work on 51%.
P-Shop by Slublog.
Put Huckabee on It. He's a Sneaky Little Shit Like You. The Animal House line about Niedermayer always goes through my mind when Huck does this stuff.

posted by Ace at
04:09 PM
|
Access Comments