« Saturday College Football Thread
|
Main
|
Obama Bows to Royalty, But Won't Put His Hand On His Heart for the National Anthem »
November 14, 2009
Here We Go Again With Obama Bowing And Scraping
This time it's to the Emperor of Japan.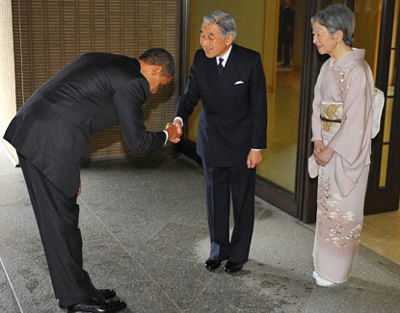 I'm sure there are a lot of liberal bloggers burning up the Google servers trying to find an image of Bush doing this. Hopefully for their credibility they can find something better than Bush leaning over to have a medal placed around his neck.
Also, I guess given this we can now assume that idea that the idea Obama was just picking something up off the floor when he bowed to Saudi King Abdulah is um, no longer operative.
As for this case, is it proper protocol for the US President to bow to royalty? Nope. Here's how the NY Times described a much less subservient image of Bill Clinton kind of nodding to Akihito.
It wasn't a bow, exactly. But Mr. Clinton came close. He inclined his head and shoulders forward, he pressed his hands together. It lasted no longer than a snapshot, but the image on the South Lawn was indelible: an obsequent President, and the Emperor of Japan.

...But the "thou need not bow" commandment from the State Department's protocol office maintained a constancy of more than 200 years. Administration officials scurried to insist that the eager-to-please President had not really done the unthinkable.

"It was not a bow-bow, if you know what I mean," said Ambassador Molly Raiser, the chief of protocol.
What Clinton did may not have been a Whoppie Glodbergesq "bow-bow" but what Obama did certainly was.
I think most Americans find the idea of bowing to royalty kind of silly. The Emperor of Japan would be different simply because it's the cultural tradition to bow to anyone when you meet them in Japan. Obama however, isn't a tourist or a businessman hungry to close a deal. He is American head of state and he doesn't bow to other heads of state. Well, he didn't until recently.
"Slappy" found the video, it's below the fold. Oy.
More about bowing in Japan...
I wouldn't be upset if it was a little head nod or even a shoulder kind of deal but this is clearly subservient.
It depends on the social status or age of the person you bow to. If the person is higher status or older than you are, you should bow deeper and longer. It is polite to bow, bending from your waist. Men usually keep their hands in their sides, and women usually put their hands together on their thighs with their fingers touching. If it is a casual situation, you can bow like nodding. The most frequent bow is a bow of about 15 degrees. You might feel strange to do it, but try to bow in Japan. You will be considered very polite.
I wonder if Akihito bowed first. I doubt it since they are shaking hands and the idea of the Emperor bowing to someone would be scandalous in Japan. Plus, you don't need to do both, shake hands and bow, and these things are (or should be) choreographed in advance.
Obama's bow is way too deep. Yeah, Akihito is older but that's not the important factor here. Obama should not be putting himself where he is in the position of lower status.
That's fine for Barack Obama, International Man of the Lef but President Barack Obama needs to stand tall for American (literally and figuratively).

posted by DrewM. at
11:14 AM
|
Access Comments