« Report: Obama Rejects Biden's Afghanistan Strategy. Still No Decision On Troop Increase
|
Main
|
Democrats Defeat Effort To Remove Rangel From Chairmanship »
October 07, 2009
You Can't Make This Up. Well Maybe You Can. No, I Don't Think So
Behold part of the Obama's art collection in the White House.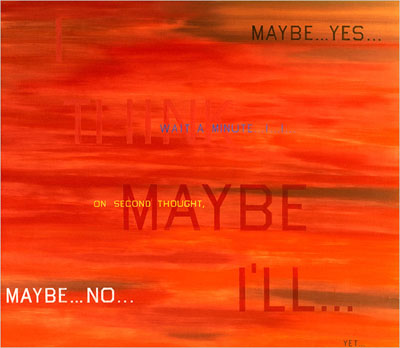 But the collection is also not without humor. Another contemporary work chosen by the Obamas is a word painting by the California artist Ed Ruscha. Called "I Think I'll ... " it deals with the subject of indecision.
I don't know it this shows an absolute lack of self awareness or an incredible sense of who he is.
General McChrystal emails to ask, "So, how does this painting end? Or does it?"
*Yeah, I uploaded the wrong file at first and no it wasn't the mythical girl pr0n we've all heard so much about here.

posted by DrewM. at
12:02 PM
|
Access Comments