« This is just amazing (chad)
|
Main
|
A final push on health care...(tmi3rd) »
September 25, 2009
Overnight Open Thread - TGIF (Mætenloch)
Welcome to Friday all. Lots of good stuff tonight.
Item #1: The Mystery of 'Lady Be Good'
[warning long post below]
In 1958 a British oil exploration team flying deep in the Libyan desert spotted the wreckage of a WWII bomber. Later a ground team visited the site and identified it as the US B-24D bomber "Lady Be Good" which had gone MIA after an April 4, 1943 bombing raid over Italy. Although broken in two the plane was in remarkably preserved condition with still working machine guns and radio. However there was no sign of the crew. So how did the bomber end up over 1000 miles away from its target and whatever happened to the crew?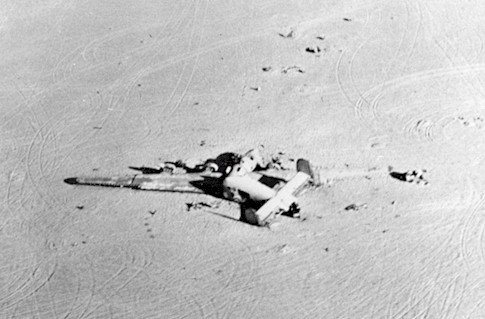 The Remains Are Found
In 1960 another oil exploration team discovered by chance the bodies of 5 of the crewmen 80 miles away from the wreckage. Eventually after combing the area the remains of 8 of the 9 crewmen were located. The body of SSGT Vernon Moore was never found. From a diary the men kept the mystery of what happened was unraveled (mostly).
Apparently due to high winds and poor visibility the bomber crew had aborted their bombing run over Naples and tried to return to their Benghazi base. However by this time it was dark and their direction finder was not working so they were flying blind. They asked for a heading from the base but probably never heard the response. They kept flying for several more hours going past the base until they began to run out of fuel.
Thinking they were still over the ocean they bailed out of the aircraft. One of the crew was killed on impact and the rest, believing they were only a few miles from the coast began to walk northwards. In reality they were over 400 miles deep in the desert. With only a single canteen of water among them they managed to walk almost 100 miles over 8 days before dying one by one. An amazing accomplishment given the tragic circumstances.
How I Learned About The Story
When I was maybe 5 years old or so I happened to see a movie on TV that was based on the Lady Be Good story. In it the ghosts of the crew were in still in the desert awaiting rescue, possibly unaware that they were dead. There also was a subplot about a cowardly navigator who survived yet doomed the rest of the crew. As the bodies were recovered their ghosts disappeared to the dismay of the others. Eventually there was only one ghost left who is still waiting in the desert, tossing his baseball for eternity. For whatever reason this movie made a DEEP impression on me - maybe some key neuron had just gotten hooked up - and I can still remember details of the movie like it was yesterday even though I only saw it one time. I had occasional dreams about it for months afterwords. No one I've ever talked to since then had ever head of the movie and I began to wonder if I had only imagined it.
Well thanks to the internet I've identified the movie as Sole Survivor, a made-for-tv movie from 1970 staring William Shatner. And apparently based on the comments at the IMDB page I'm not the only person who has been haunted by the movie since seeing it as a kid. Unfortunately it hasn't been released on DVD so you'll have to track down old VHS copies.
[sorry for all the typos earlier -I was racing to type this up before heading out to dinner]
The Morons come through: You can watch the movie online here or here. And a preview here.
Item #2: Randy Quaid Is a Wanted Man
There's currently an arrest warrant out for Quaid for burglary. Apparently he and his wife have a history of staying in hotels, running up big bills and then skipping out. And in 2008 he was banned for life from Actors' Equity for abusing fellow performers. I've always liked Randy but maybe Cousin Eddie wasn't all method acting. Maybe he's just a jerk.
Update: They were arrested and apparently paid up.
Update 2: Nope they still owe money and apparently are doubling down on the crazy. And owe other hotels as well.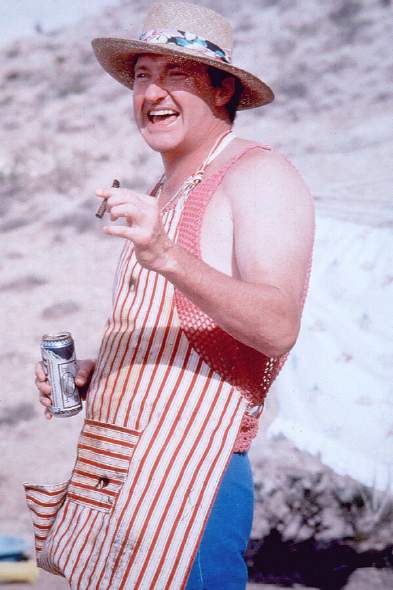 Oh and that Islamic guy who tried to blow up the courthouse in IL. He's a ginger.
Tonight's post brought to you by Helter Skelter: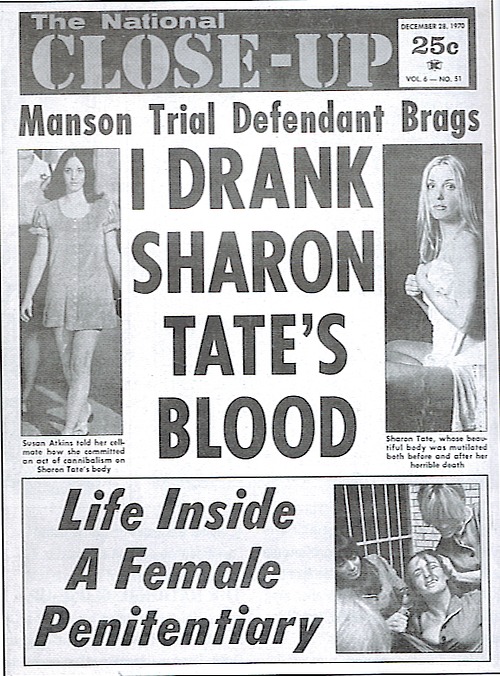 Susan Atkins died in prison last night.
Good.
Notice: Posted by permission of AceCorp LLC. Please e-mail overnight open thread tips to maetenloch at gmail. Otherwise send tips to Ace.

posted by xgenghisx at
09:59 PM
|
Access Comments