« What the Heck? Fire Chief Shot by Police Officer in Court!
|
Main
|
NON-BREAKING: – Los Angeles Not Destroyed by Sneak North Korean Nuclear Missile Strike - (genghis) »
September 04, 2009
Overnight Open Thread – The Man Post - (genghis)
Just some brief manly things to get you moving along tonight. Mostly, men behaving badly or gheyly, but what else is new? That's how we roll.
Item #1: This is old. Ancient, in fact, but I was cleaning off my desk today (as an alternative to setting it on fire) and ran across an ancient hardcopy of the list of Reasons Why it's Great to be a Guy. This thing has been roaming the intermesh via e-mail and newsgroups in some form or another since at least 1995. It never gets old though and people are constantly adding new items. Some of the better ones, IMHO:
You can kill your own food.

One mood, all the (damn) time.

Same work ..... more pay.
As always, feel free to add your own reasons. There are similar lists concerning why it's great to be a chick, but why would we be interested in reading about that nonsense?
Item #2: Ok, here's a man behaving badly, but in your darkest heart of darkness be honest here. Tell me that you haven't considered doing this at one time or another. (And the ladies can chime in here as well…I bet you've considered it more than the guys have).
"STONE MOUNTAIN, Ga. (AP) - Police say a 61-year-old man annoyed with a crying 2-year-old girl at a suburban Atlanta Walmart slapped the child several times after warning the toddler's mother to keep her quiet. A police report says after the stranger hit the girl at least four times, he said: "See, I told you I would shut her up."
Well, I guess he's got his ho-slap skillz nailed down just fine, but you have to admit that 2 years old might be a little early to start teaching them the respect. Child psychologists usually recommend waiting until they're at least 5. So when men aren't busy whacking other people's kids in Wal-Marts, they can often be found interacting with animals:
Item #3: Pantless Man Accused of Harassing Horse.
Does anything else really need added to that?
With the first full weekend of college football getting underway tomorrow, I posted a hot cheerleader pic for you below the fold…
No…no need to thank me. I do this out of the love for you sub-morons.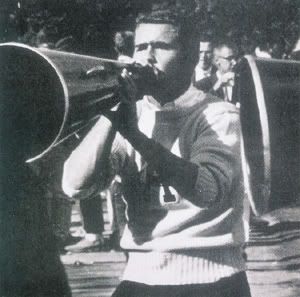 "We've got spirit, yes we do…."
Speaking of team spirit, looks like it was overflowing at the end of last night's game between #16 Oregon and #14 Boise State when Oregon running back LeGarrette Blount cold-cocked BSU defensive end Byron Hout after losing to them 19-8. Presumably this was due to some taunting by Hout but more likely was the result of having to live with the first name "LeGarrette" along with playing for a team whose mascot is a duck. Either one alone would be enough to cause serious anger management issues, but combined (along with Oregon's perpetually sucky and cartoonish uniforms) would be enough to drive anyone over the edge. Earlier this afternoon it was announced that Blount would be suspended for the rest of the season. Video from ESPN:
Notice: Posted by permission of AceCorp LLC. Please e-mail overnight open thread tips to xgenghisx@gmail.com. Otherwise send tips to Ace.

posted by xgenghisx at
10:00 PM
|
Access Comments