« Big Rumor: Leon Panetta Resigns from CIA?
Nope: CIA Spokesman Denies
|
Main
|
The Well Never Runs Dry: Newsweek "Science" Editor Once Again Claims That Mental Illness Explains Republican Opposition to a Democrat »
August 26, 2009
Inevitable: NEA Pushes Artists to Begin Making Obama Propaganda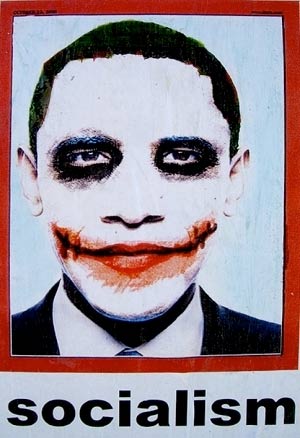 I would say "What if Bush had done this?," but the thing is, no president should be doing this.
It is amazing to me that Barack Obama seems to have no boundaries whatsoever.
Ever think you can get away with doing something, probably, but then stop yourself from doing it because you don't like where it might lead you? That is, your super-ego checks in and argues "Can you really trust yourself entirely?" and, being not altogether confident in your own integrity and capacity to resist temptation, you refrain from taking the problematic action?
Yeah, well, Obama has no idea what I'm talking about.
He trusts himself implicitly. There's not a step or a tactic or a shortcut he shies away from taking.
Before Obama -- B.O., in Spike Lee's BO/AO dating system -- it was understood that the president was not permitted to direct whole agencies, supposedly nonpartisan, to become merely taxpayer-funded organs of his campaign committee.
Change.
I was invited by the National Endowment for the Arts (NEA) to take part in a conference call that invited a group of rising artist and art community luminaries "to help lay a new foundation for growth, focusing on core areas of the recovery agenda - health care, energy and environment, safety and security, education, community renewal."

...

Backed by the full weight of President Barack Obama's call to service and the institutional weight of the NEA, the conference call was billed as an opportunity for those in the art community to inspire service in four key categories, and at the top of the list were "health care" and "energy and environment." The service was to be attached to the President's United We Serve campaign, a nationwide federal initiative to make service a way of life for all Americans.

It sounded, how should I phrase it…unusual, that the NEA would invite the art community to a meeting to discuss issues currently under vehement national debate. I decided to call in, and what I heard concerned me.

...

We were encouraged to bring the same sense of enthusiasm to these "focus areas" as we had brought to Obama's presidential campaign, and we were encouraged to create art and art initiatives that brought awareness to these issues. Throughout the conversation, we were reminded of our ability as artists and art professionals to "shape the lives" of those around us. The now famous Obama "Hope" poster, created by artist Shepard Fairey and promoted by many of those on the phone call, and will.i.am's "Yes We Can" song and music video were presented as shining examples of our group's clear role in the election.

Obama has a strong arts agenda, we were told, and has been very supportive of both using and supporting the arts in creative ways to talk about the issues facing the country. We were "selected for a reason," they told us. We had played a key role in the election and now Obama was putting out the call of service to help create change. We knew "how to make a stink," and were encouraged to do so.





P-shop thanks to Slublog

A machine that the NEA helped to create could potentially be wielded by the state to push policy. Through providing guidelines to the art community on what topics to discuss and providing them a step-by-step instruction to apply their art form to these issues, the "nation's largest annual funder of the arts" is attempting to direct imagery, songs, films, and literature that could create the illusion of a national consensus....

And if you think that my fear regarding the arts becoming a tool of the state is still unfounded, I leave you with a few statements made by the NEA to the art community participants on the conference call. "This is just the beginning. This is the first telephone call of a brand new conversation. We are just now learning how to really bring this community together to speak with the government. What that looks like legally?…bare with us as we learn the language so that we can speak to each other safely… "

Is the hair on your arms standing up yet?

Yes, It Is.
You know, I don't drop the N-word much (Nazi, I mean), but seriously, if you don't want to be called a Nazi, stop doing Nazi stuff.
As a commenter points out, artists are overwhelmingly leftists and do 99% of Thy Master's Bidding anyway. And yet they apparently feel they must organize the effort and have the NEA -- the country's largest funder of art -- slip out the word that all efforts in this area would be much appreciated.

Thanks to JeffW.
Oh: Remember, before the NEA told them to, photographers and mainstream magazines were shooting Obama with halos and nimbuses (yes, nimbi, whatever) suggesting that he was in fact The Risen Christ.
Now, if the artistic community is already portraying you, ludicrously and blasphemously, as a deity, is it really necessary to ask them to work on your behalf?

posted by Ace at
05:51 PM
|
Access Comments