« Libyan Terrorist Returns To Adoring Crowd
|
Main
|
Comments Are Down, Pixy Has Been Notified UPDATE: Our Short Blog Nightmare Is Over! Comments Are Back »
August 21, 2009
Zombie Roundup (Mætenloch)
It's been a while so let's take a moment to catch up with what's been happening on the undead front.
First stop - Japan. The Fuji-Q Highland amusement park in Japan felt that their zombie staff had lost their edge and just weren't scary enough so they put all their z-associates through a zombie boot camp. Of course being Japanese this involved a lot of yelling, organized calisthenics, and the occasional beating with sticks. You can watch it all here.
And here's some video from a Japanese game show where they had a zombie attack little kids in their house but only after first sending a warning letter (apparently J-Zombies are very polite). And terror, pant wetting, and hilarity ensues. Sure it seems cruel but it's just this sort of tough love that will build the zombie-fighting warriors that we will need in the future.
But it's not all tears and wet pants, zombies can also be fun for the kids as this zombie action figure play set demonstrates. It's currently on sale for just $15.95 and all the figures glow in the dark for after-bedtime adventures. [h/t genghis]
On a more serious note a team of Canadian mathematicians have created a series of mathematical models to explore the effects of a real-world zombie outbreak and determine the best course for human survival. The models assume slow-moving zombies and allow for either immediate or 24-hour delayed zombification, but the bottom line is that a zombie outbreak would be bad, really bad.
Pretty much the only way to avoid the eventual extinction of all humans is to fire-bomb and/or nuke infection points early and often. So when escaping the Z's in your armored bus, do be sure your destination is outside both the blast and fallout zone.
Meanwhile Daniel Drezner takes up the topic and ponders how a zombie outbreak would affect international relations. There's no definite conclusion but it seems likely that even if you assume some irrationality on the part of zombie state actors, it's still likely that we'll end up in a cold war-like scenario. And of course British beef will have to be banned again. Just to be safe.
It looks like AMC will finally turn the Walking Dead comic series into a television series.
And on an uplifting note the Yuan brothers prove that familiarity with guns, D&D, and a well thought out zombie plan can get you a job in Hollywood. So let that be an inspiration for all of us morons.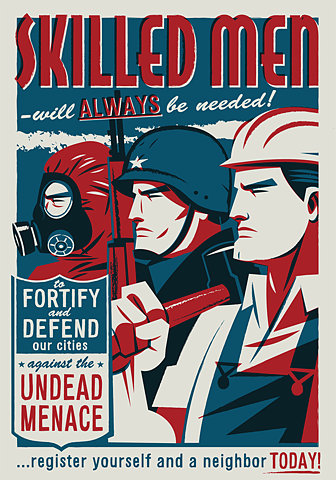 Please send all your zombie news and tips to maetenloch at gmail.

posted by xgenghisx at
05:56 AM
|
Access Comments