« Zogby Friday: Obama at 45%
|
Main
|
Libyan Terrorist Returns To Adoring Crowd »
August 20, 2009
Overnight Open Thread (Mætenloch)
No kittens tonight. Just solid, serious ONT discussion material.
And here we go...
Item #1: 5 Disturbingly Specific Magazines
Nowadays bookstores carry more magazines than you can shake a stick at - easily over 1000+ titles. Most are just variations on existing themes (cars, sports, crafts, etc.), but occasionally you come across a magazine that exposes you to a demographic that you never even knew existed before. And the mags at the bookstores are just the ones with mass appeal. There are many other magazines out there that cater to really niche-y groups.
The link above has some good ones but I've found a few more. Note that the rules require that the periodical in question actually be printed and sold somewhere which rules out otherwise worthy contenders such as Modern Drunkard Magazine. [Update: The Drunken Conservative who seems to know whereof he speaks points out that you can indeed buy print subscriptions to MDM] Here they are:
1. Sheep! The voice of the independent flockmaster.
2. American Coin-Op The monthly magazine devoted to owners of self-serve laundries.
3. Girls and Corpses Apparently for the heterosexual zombie aficionado. Personally I prefer to keep my vices separate but to each his own. [warning: borderline NSFW]
4. Mushing The international magazine of dog powered adventure.
5. Transgender Tapestry I think you all can guess what demographic this is for.
6. ¡Alarma! A Mexican magazine dedicated to graphic photos of death, decapitations, and scantily-clad women. It's so graphic that I won't even link to it - you'll have to find it on your own.
But here is my favorite one of all:
Bacon Busters Australia's only magazine dedicated to pig hunting. I'm particularly curious about the Babes and Boars section.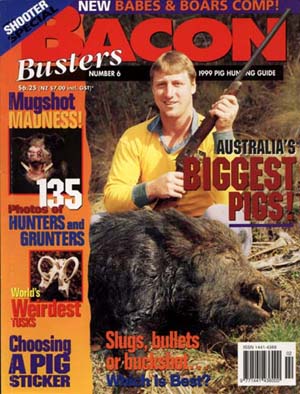 Item #2: Why Curveballs Seem to Break
One of the minor mysteries of baseball is why curveballs are so effective. Sure curveballs actually do curve as wind tunnels and high speed cameras have shown but only slightly and in a smooth way. And humans are very good at tracking and hitting smoothly moving objects especially MLB-type humans. And yet most baseball players have a hard time hitting curveballs and often describe them as having a 'sharp break' at the last moment. How come?
Well the answer seems to be that it's an optical illusion that happens when the ball moves from a hitter's central to peripheral vision. Watch the animation at the link and see if it happens to you too.
Tonight's post brought to you by a man in black: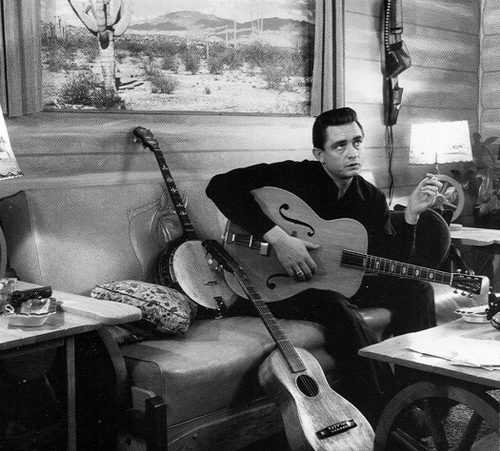 Notice: Posted by permission of AceCorp LLC. Please e-mail overnight open thread tips to maetenloch at gmail. Otherwise send tips to Ace.


posted by xgenghisx at
10:00 PM
|
Access Comments