« Great Moments In Literature
|
Main
|
Top Headline Comments 08-04-09 »
August 04, 2009
Overnight Open Thread (Mætenloch)
Hmm - not sure where genghis is but I'll throw this up in the meantime.
Item #1: 10 Brutal Food Examples From "This Is Why You're Fat"
Okay some of these are kinda gross, but if I had drunk a few beers and it was late all of these would be in danger of being eaten.
Whoops, Censored [ace]: While I dearly love busty babes of Britain, please no porn or near-porn in open threads. A rule I have.
Here's Jim Treacher's Why So Spurious? instead. Almost as good. Well, maybe not, but it's still really really good.
Update/Correction/Clarification: (genghis) Since we're editing Maetenloch's ONT post I might as well tack on something completely unrelated. Well, sort of. It's regarding last Saturday night's ONT and the "Thundercrack" thingy. I'm sure you've all rushed out to buy the DVD. I only bring it up now because "Thundercrack" was mentioned at least twice in the opening 10 minutes of Red Eye on Monday night, and I got a kudo or two in the thread since it appeared that Red Eye had actually picked up and referenced something I'd written here at AoS. An easy enough conclusion to make and I appreciate it, but none of the sub-morons around here even read anything I write, much less anyone at Red Eye or elsewhere. The truth is actually somewhat in reverse and here's how it went down:
1. Friday afternoon I was listening to a popular local radio talk show host named Dori Monson and he was discussing various ridiculous items in the various ridiculous stimulus packages. As he was talking about it I got distracted by a phone call but was still trying to listen somewhat to the show. The two things I wrote down on a post-it note during the call were "Thundercrack" and "Citizens Against Govt. Waste" (CAGW). I meant to check into them but never got around to it.
2. Fast forward to Saturday night. I had a bunch of decent links and things for the ONT that everyone could ignore as usual but nothing really screamed "morons!" to me. Running low on time I spotted that post-it on my desk with "Thundercrack" and CAGW. Why not check it out? After looking up and visiting the "Thundercrack" site it became obvious that it needed posted, stat! Nothing else would suffice. Yet it still needed that "newsish" stimulus angle to it. Problem was, CAGW's site decided to die that evening and that's where I thought the newsish link could be found. After many attempts and also trying to get the story from elsewhere I said "screw it," deciding that half a post was better than writing a whole new one about kittens and quilting. So that's the sad tale of the ONT from Saturday.
But now the truth can be told and my hackery exposed.
Had I listened a little more closely to my radio buddy Dori I might've heard that CAGW was merely referenced in the story and not the actual source that he used. He helpfully cleared that up Sunday night by sending me the link to the Fox News Channel story from whence it came. Isn't it ironic? Don't you think? So the FNC article does mention a quote by David Williams, vice president for policy at Citizens Against Government Waste regarding "Thundercrack" and other NEA grants funded by the stimulus packages that are beyond dubious.
Or perhaps it's all just a big misunderstanding since the words "stimulus" and "package" were in play here.
So that's my story and I'm sticking with it. Please note that I've already boxed up the Pulitzer that arrived late Sunday and it'll be Fed-Exed back later today. Hopefully you can forgive this error in judgement and poor post-it note management so I can one day return to swiping the best stuff from Cracked.com in order to provide you with the quality journalism you expect from the ONT. If not I'd certainly appreciate it if anyone could forward me the e-mail address to the HR Department at the New York Times. Humbly yours,
genghis
Need I say more. (not sure if this was part of Maet's original post, Ace's horrifying and Pravda-ish censorship, something Treacher snuck in when we weren't looking etc. - genghis)
Tonight's post brought to you by the Ronald: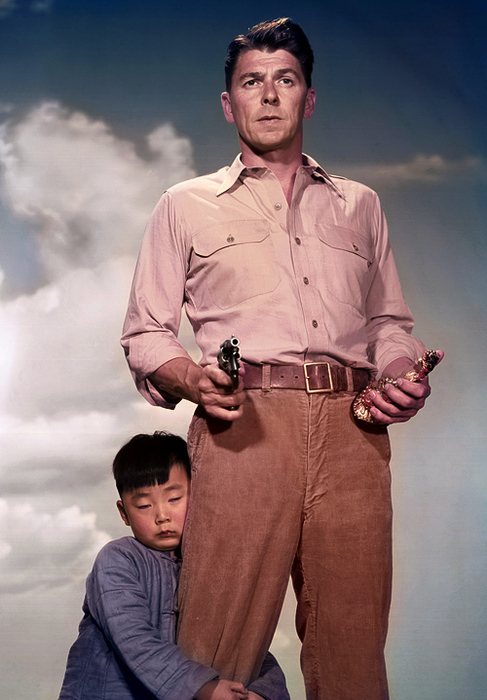 Notice: Posted by permission
of AceCorp LLC. Please e-mail overnight open thread tips to xgenghisx@gmail.com. Otherwise send tips to Ace.

posted by xgenghisx at
12:02 AM
|
Access Comments