« Heartache: T-Paw Makes Nicey-Nice With The Other Side
|
Main
|
AOSHQ Liquor Summit »
July 30, 2009
In memory of Ernest (Mætenloch)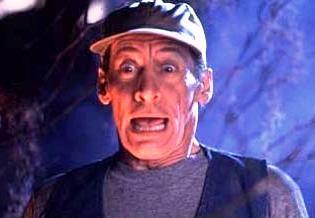 Rather than do another post on the birthers I thought I'd rather take a moment to remember Jim Varney who's best known as Ernest P. Worrell. If you lived in the South anytime during the 80's, you're familiar with the various commercials he did for local products. He also appeared in commercials in the Midwest as well as California which made him a national celebrity. Later he appeared in a series of movies which remain guilty pleasures for many including myself. For an obnoxious redneck Ernest was a lovable and familiar character. I think almost everyone has a family member or neighbor who unknowingly manages to channels their inner Ernest. Sadly Jim Varney died in 2000 from lung cancer at the age of 50.
While Varney is best known as Ernest one thing that most people do not know about him is that he was a trained Shakespearean actor and classic theater remained a love of his throughout life. He did a lot of standup, appearing on The Tonight Show and was a close friend of Robin Williams from their touring days. People that knew him say that unlike the characters he played he was extremely smart with a near photographic memory. He also gave a lot of money to youth drama programs, financed a Shakespeare theater in Tennessee, and was very active with the Make-A-Wish Foundation, visiting several hundred terminally ill children as 'Ernest'. By all accounts he was a decent, humble man who was happy with the success that he eventually found.
And here is a clip from a 1984 NBC Nightly News report when Varney was just getting popular. Be sure and watch it until the end.

posted by xgenghisx at
05:54 PM
|
Access Comments