« Noble Race-Blind Professor Agrees to Have Beer With Corrupt, Racist Cop
|
Main
|
Rasmussen: by more than 2:1 public thinks cap/trade will hurt economy »
July 25, 2009
Overnight Open Thread (Mætenloch)
Genghis is in repose tonight since apparently he does have a life outside of AoS.
So here are a few items for your enjoyment:
Item #1: 5 Lies All Women Tell
I'm pretty sure we've all heard these at some point or other. And by 'we' I mean uh, you guys. Most of these are white lies but the 'I'm not mad at you' lie is particularly pernicious. She knows that she's mad, you know she's mad, but you still have to go through the kabuki dance of denials to get her to actually admit that she's angry. If we just could cut out this step, I'm convinced our overall national efficiency would go up by 7%.
Item #2: The Nastiest Canned Food From Around the World
I disagree about the canned bacon, but all the rest look pretty scary/gross. Oh and in case you were wondering huitlacoche is corn fungus.
By genghis's request tonight's theme is music videos - both the best and worst. So in tribute I start off with a dedication to genghis, 'Moskau' by Dshinghus Khan, a cheesy German pop group from the 70's:
Tonight's post brought to you by the Shat-approved commodore VIC-20: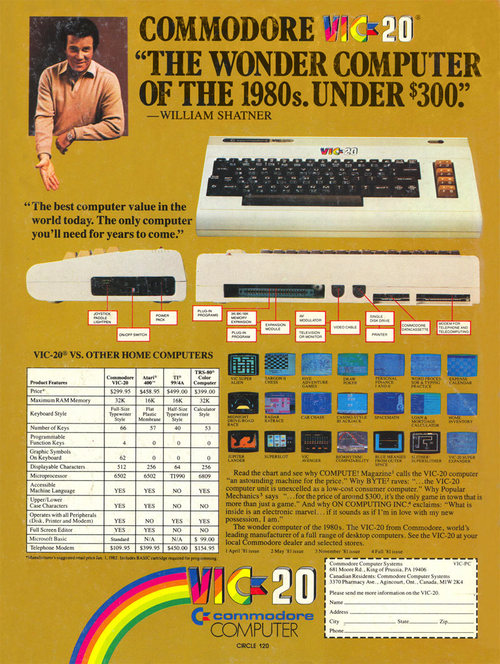 Notice: Posted by permission of AceCorp LLC. Please e-mail overnight open thread tips to xgenghisx@gmail.com. Otherwise send tips to Ace.

posted by xgenghisx at
10:41 PM
|
Access Comments