« CNN Anchor Desperately Wants to Hear Warm Welcome for Obama by Ghanans is "Unprecedented;" Deflated to Find Out They Were Just as Wild for Bush
|
Main
|
Top Headline Comments 07-13-09 »
July 12, 2009
Overnight Open Thread (Mætenloch)
Unfortunately Genghis is under the weather again tonight so I'm filling in for him. We've warned him before about the sickly hobos but he seems to have gotten a taste for their sweet, sweet, gamy flesh. So what can ya do?
Anyway here are a few items for your enjoyment:
Item #1: The Great Tennessee Marijuana Cave
I know this is old, but it's so awesome that it's worth looking at again. I have a certain respect for criminals who go all out in their crime commitment. Of course this could all could just be a misunderstanding over private hemp use. And who couldn't use an escape hosta from their house?
Item #2: Our Secret Fantasies About Annoying Prius Owners
Can't live with 'em, can't gut and skim 'em...until now.

Tonight's post brought to you by men with intelligent faces (and 1969 Dodge Chargers):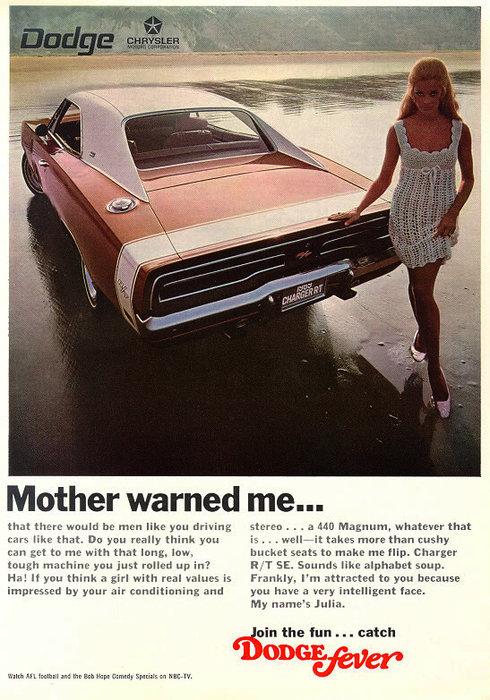 Weekly commenter results are under the fold.
Weekly AoSHQ Commenter Standings
Top 10 commenters:
1 [471 comments] 'kbdabear' [66.5 posts/day]
2 [351 comments] 'Blazer'
3 [314 comments] 'momma'
4 [279 comments] 'wherestherum'
5 [276 comments] 'Tweets'
6 [270 comments] 'ParanoidGirlInSeattle'
7 [253 comments] 'gator'
8 [219 comments] 'eman '
9 [196 comments] 'Editor'
10 [178 comments] 'ATNorth'
Top 10 sockpuppeteers:
1 [66 names] 'kbdabear' [9.3 unique names/day]
2 [31 names] 'toby928'
3 [30 names] 'Blazer'
4 [26 names] 'Editor'
5 [26 names] 'George Orwell'
6 [23 names] 'runningrn'
7 [18 names] 'Tweets'
8 [16 names] 'AnonymousDrivel'
9 [15 names] '12 Inch Middle Finger'
10 [15 names] 'Nom de Blog '
Notice: Posted by permission of AceCorp LLC. Please e-mail overnight open thread tips to xgenghisx@gmail.com. Otherwise send tips to Ace.

posted by xgenghisx at
10:02 PM
|
Access Comments