« Crony Capitalism...Sen. Daniel Inouye's (DEMOCRAT-HI) Office Gets Results, Saves Local Bank And Their Boss' Investment
|
Main
|
Lionesses in the Military »
July 01, 2009
Ironic Cowbell: 473,000 More Jobs Lost
Gibbsy said we're allowed to start measuring Obama's success with the economy now.
he US private sector shed 473,000 jobs in June to cope with a prolonged recession, a survey by payrolls firm ADP showed Wednesday with a warning that unemployment will rise for several more months.

The June job cuts were worse than the 395,000 expected by most analysts but lower than 485,000 in May, which was revised from the previous 532,000 figure.
Monthly employment losses in April, May, and June averaged 492,000, a notable improvement over the first three months of the year, when monthly losses averaged 691,000, according to the ADP National Employment Report.

"Nevertheless, despite some recent indications that economic activity is stabilizing, employment, which usually trails overall economic activity, is likely to decline for at least several more months, although perhaps not as rapidly as during the last six months," ADP said.

The ADP figures came a day ahead of the keenly awaited June government labor report, which would provide the latest economic snapshot of the world's largest economy reeling from recession since December 2007.

While the ADP report for June was not as dire as the initial headlines indicated when taking the May revision into account, "it isn't good news," said Briefing.com's Patrick O'Hare.
I'm surprised they didn't spin this into good news. "Funemployment!"
George Bush took the Golden Cowbell with him, and he's not giving it back. At least not until a worthy man takes the presidency again.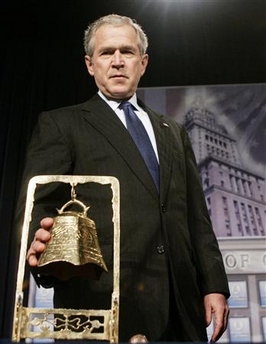 posted by Ace at
11:49 AM
|
Access Comments