ę $hocking: ABC Employees' Donations Went to Obama by a 33-to-1 Ratio, and Not a Single Journalist Gave to Palin/McCain
|
Main
|
Shatner on the Tonight Show Ľ
June 18, 2009
Iran Stuff UPDATE: Is Tomorrow The Showdown Day?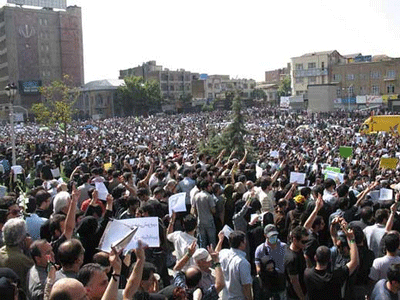 Above the post update:
Below I speculated that Ayatollah Khamenei's decision to lead the Friday prayers at Tehran University would be the time the regime says enough is enough. Looks like it.
Ayatollah Ali Khamenei, Iranís Supreme Leader, has told Mir Hossein Mousavi to stand beside him as he uses Friday prayers at Tehran University to call for national unity. An army of Basiji ó Islamic volunteer militiamen ó is also expected to be bussed in to support the Supreme Leader.
Seems there's a not too subtle "or else" included in that call for unity.
Original Post:
More protests today with a major rally in Tehran to commemorate those killed in earlier debates clashes.
In response to a call by the leading opposition candidate in the June 12 presidential election, Mir Hossein Mousavi, the massive procession streamed toward Imam Khomeini Square largely in silence, then broke into chants against Ahmadinejad and alleged electoral fraud, witnesses said.

"Death to the dictator!" some chanted. "Where are our votes?"

Press TV, an English-language version of Iranian state television, said the crowd numbered in the "hundreds of thousands" and described the rally as "peaceful." It said Mousavi, in a brief address to the crowd, called for "calm and self-restraint." A Mousavi Web site estimated the gathering at more than 1 million people, the Associated Press reported.

The march, billed as a show of mourning for at least seven protesters killed after a huge demonstration Monday, came after Iran's elite Guardian Council Thursday invited the four presidential candidates to a special meeting Saturday to review their concerns. The council, a 12-member panel of senior Islamic clergy and jurists, is charged with confirming the election results. It is investigating allegations of fraud and has agreed to a limited recount in places where irregularities are found.
Photos from the march here.
Twitter continues to be an invaluable source of information on events. Remember when the Obama administration was given credit for asking Twitter to postpone a scheduled down period so Iranians could keep using it? Turns out it was the idea of someone originally brought to the State Department by Bush/Rice (via Jim Treacher's, um, Twitter feed).

Michael Totten has a good post up about Mousavi, who he is and what he may become.
Though I'm pessimistic about the guy, there may be some reasons to be hopeful about Mousavi. He's a devout Muslim but at the same time his wife and daughters are professionals and he seems comfortable with that. On the other side he was Prime Minister under Khomeini and sat on his hands during religious crackdowns and political purges, so his claims to be a reformer and supporter of liberty sound less than credible. Also, we can never forget he was fully cleared by the Guardian Council and Khamenei.
The reality is if, and it's a huge if, Mousavi does some how become President, the conditions under which it will happened means the power arrangements in Iran will have drastically changed along with the expectations of Mousavi's supporters. He'd have to make more than token efforts to live up to them.
A Mousavi victory that dismantled the theocratic structure of Iran's government would be a huge victory for the US. Unfortunately, it's also the one our government seems to be rooting against at this point.
All that said, I have my doubts that anything will change. There was this ominous yet inconclusive report from "The Tehran Bureau"
I have now received e-mails from totally trustworthy sources within Iran that many Sepaah commanders [Sepaph is IRGC] have been arrested,

...because they are opposed to what is going on and in particular to the plan for tomorrow. ['plan for tomorrow' not sure yet]
Per the Washington Post article linked up top, Khamenei is going to lead the Friday prayers at Tehran University. Could this be the, 'you've had your fun, now let's get back to business" warning?
The regime isn't going down without a fight but it seems unlikely that Mousavi and the people in the streets are going to accept some lovely parting gifts and go home.
If Tehran Bureau is right, are these arrests an attempt to get rid of the waverers and are there more out there? Enough to stop an attack or maybe to split the Guard?
Sorry to have more questions than answers but not even the really, really smart folks know.
Either way though, this can't go on forever or even very much longer.

posted by DrewM. at
04:45 PM
|
Access Comments