« Yes, Virginia, Bill Ayers Did Ghostwrite Dreams From My Father
|
Main
|
Rule 5 Wednesday
»
May 26, 2009
Burris Promised Blago $1500 (or $10,000?) Check Just Before Being Appointed Senator
That's the Chicago Way. And that's how you get a Senate appointment.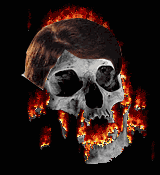 (Slublog's special Blago-centric flaming skull)
In a November conversation caught on an FBI wiretap, Roland Burris promised Gov. Rod Blagojevich's brother that he'd write the governor a campaign check by mid-December, Burris' lawyer said today.

That was about a month before Rod Blagojevich appointed Burris to the U.S. Senate.

But lawyer Timothy Wright told the Chicago Sun-Times today that his client never sent the check because he believed it wasn't a good idea given Burris' interest in the U.S. Senate seat appointment. Wright said Burris' decision not to send the check had nothing to do with Blagojevich's Dec. 9 arrest.
Burris made his decision before the arrest, Wright said.

"Sen. Burris, as he said, decided he couldn't send a check because it wouldn't look good," Wright said.

Burris did not mention a promise of a check in a Feb. 4 sworn affidavit that Burris submitted to an Illinois House panel investigating Rod Blagojevich's impeachment. That affidavit sought to supplement Burris' testimony before a House panel, where Burris only mentioned having contact with Lon Monk with regard to the appointment.

But Wright said the amount of the check was to be $1,500. The conversation with Robert Blagojevich happened when Burris was interested in the U.S. Senate. Wright said Burris' answers to the House panel have been consistent, and he has made repeated efforts to be as complete as possible to the public.

Wright scoffed at the notion that a promise of a check was part of any pay-to-play scheme.

"Fifteen hundred dollars? Come on" Wright said. "Burris had been a fund-raiser in years past. This had nothing to do with pay-to-play."
Actually, parts of this story is old, from February. The new element of it is that the wiretapped conversations are being released and, critically, that Blago's brother didn't merely ask for a check; one was promised.
Note that the headline suggests that the check might have been for $10,000. I see no evidence that the promised amount was $1500 -- only Burris' mouthpiece says this. When the story broke in February, it was reported that Blago's brother had solicited $10,000.
Whether Burris negotiated that down to $1500, I don't know. But until I hear the transcript specifying the $1500 amount, I'm not accepting that figure. Maybe the personal check from Burris was to be $1500, with an additional $8500 in promised fund-raising by Burris' pals.
I don't think someone of Burris' shady background quibbles over $10,000 when it comes to a valuable f'n' thing like a Senate seat.

posted by Ace at
04:10 PM
|
Access Comments