« Apple's usually smooth marketing fucks one up
|
Main
|
Milky Way Galaxy Smells of Rum »
April 24, 2009
Learning the Hardest Way
29 years ago today, we aborted Operation Eagle Claw.
I can't link a news article, because sadly, I can't find one.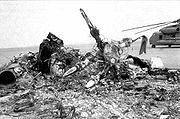 Bad luck, a friggin sandstorm, a mission pulled together with diverse assets, and the equipment and technology limitations of the day.
We lost eight American servicemen that day.
But we wouldn't take that as "here and no farther". We assessed and retooled.
And rearmed. With things like an ugly plane, that can do so much more than we could 29 years ago.
Related (from the sidebar): Cuffy shows us the difference between management and leadership.
Not a fine line.

posted by Dave In Texas at
08:19 PM
|
Access Comments