« Clinton's Mexico Blunder
|
Main
|
Quote Of The Weekend [Vinnie] »
March 28, 2009
Overnight Open Thread: "The Road to Hell Continues to get Paved" (genghis)
Lost amidst today's celebration of Urf Hour is the ongoing struggle to reign in the out-of-control and increasingly violent crime wave caused by traffickers in the deadly, highly-addictive chemical phosphate. If you thought meth was a problem, you ain't seen nuthin' yet. According to this article "Dirt-Weary Spokane Turns to Bootleg Detergent."

"SPOKANE, Wash. (AP) - The quest for squeaky-clean dishes has turned some law-abiding people in Spokane into dishwater-detergent smugglers. They are bringing Cascade or Electrasol in from out of state because the eco-friendly varieties required under Washington state law don't work as well. Spokane County became the launch pad last July for the nation's strictest ban on dishwasher detergent made with phosphates, a measure aimed at reducing water pollution. The ban will be expanded statewide in July 2010, the same time similar laws take effect in several other states."
Gadzooks! There's lots more about the root causes of this lawlessness below the fold, along with a clip from a law enforcement training video on how to combat these "soap-runners."
"Many people were shocked to find that products like Seventh Generation, Ecover and Trader Joe's left their dishes encrusted with food, smeared with grease and too gross to use without rewashing them by hand. The culprit was hard water, which is mineral-rich and resistant to soap. As a result, there has been a quiet rush of Spokane-area shoppers heading east on Interstate 90 into Idaho in search of old-school suds."

"Real estate agent Patti Marcotte of Spokane stocks up on detergent at a Costco in Coeur d'Alene, Idaho, and doesn't care who knows it. "Yes, I am a smuggler," she said. "I'm taking my chances because dirty dishes I cannot live with." (In truth, the ban applies to the sale of phosphate detergent - not its use or possession - so Marcotte is not in any legal trouble.)"
Good grief! What kind of maddening addiction holds sway over these people's minds that would cause them to take on a 100 mile round-trip journey just to get their fix, all the while trying to avoid police blockades and even getting into life-threatening car chases (while leaving a large carbon footprint behind). But it looks like more and more states and even the U.S. Congress are taking note of the problem and cracking down on this scourge:
"Phosphates have been banned in laundry detergent nationally since 1993. Washington was the first state where the Legislature passed a similar ban against dishwasher detergents, in 2006. The ban is being phased in, starting with Spokane County."It's nice to be on the cutting edge," Spokane resident Ken Beck, an opponent of the ban, said sarcastically. Among other states that have banned or are banning phosphates in dishwasher detergent are Maryland, Pennsylvania, Virginia, Michigan, Vermont, Minnesota, Illinois, Massachusetts and New York. A bill on Capitol Hill would impose a nationwide ban."
I think we can all have some sympathy for Mr. Beck, an obvious addict who seems to be in a state of denial. The article wraps up with a look into this poor man's state of mind.
"For his part, Beck has taken to washing his dishes on his machine's pots-and-pans cycle, which takes longer and uses five gallons more water. Beck wonders if that isn't as tough on the environment as phosphates. "How much is this really costing us?" Beck said. "Aren't we transferring the environmental consequences to something else?""
Hopefully he can get into some kind of treatment program before this addiction completely destroys his life. You can also be part of the solution as an alert, law-abiding citizen. A Spokane County Sherriff's Dept. sketch artist has fashioned a wanted poster to help citizens identify what they should be on the look-out for: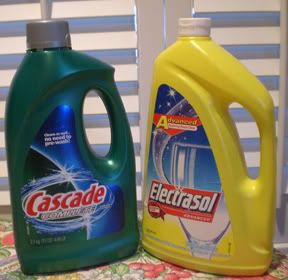 And here's the training video I mentioned above:
Also, if you want to share with everyone how you celebrated Urf Hour, please do so in the comments. I know it's a heartwarming family celebration that we all look forward to each year.
Notice: Posted by permission of AceCorp LLC. Please e-mail overnight open thread tips to xgenghisx@gmail.com. Otherwise send tips to Ace.


posted by xgenghisx at
10:20 PM
|
Access Comments